I don't know how to report the news this week.
The darkest time for all of us, especially parents…its cruel how the wickedness in some people can destroy the lives of so many.
At Christmas time we enjoy the friendship and happiness of our families and there's (or at least there should be) peace to everyone and goodwill to all men.
How can you explain the distress and pain as we read about the murder of small children? All of them will be expecting to open their presents on Christmas Day. I don't know how the families will cope, looking at the unwrapped gifts…never to be given…never to see the faces full of joy as they open the longed for toys. Parents and relatives lives have been destroyed by grief and anger, and unable to understand why this terrible tragedy has happened to them.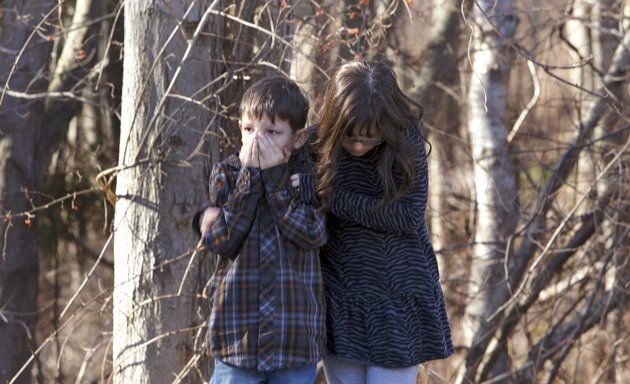 Sadness is the only emotion we feel all around the world, as we pray for those who are suffering in this small town in the USA.
I have little trust in politicians.
Q: How do you know a politician is telling you the truth?
A: His mouth is moving.
They say, it's because of the ease at which you can buy guns, that leads to gun violence.
Why do they state the bloody obvious? Platitudes and repeating what you already know solves nothing. Action, not Words, is what is needed. You want anti-gun laws…then say it, and when do you want it…NOW!
Action, not delays. Do you want another tragedy?
Also, let us not forget those brave teachers. Many died trying to save their pupils. We can only imagine the fear, dread and terror that was directed at those inside the school…six and seven year olds, and their young teachers.
The wickedness inside man is a blackness of heart that can never be understood. But perhaps making it more difficult for them to buy guns, and improving the mental health system will in future help us to see a better future for our children.
With sadness, I must carry on my news brief and hopefully try to bring a little joy at this terrible time.
It is at this time of year in Australia, the annual school reports drop through your door, or via e-mail. Just as your child expects a Happy Christmas, those B's, C's and even D's arrive. Take my advice and kiss it all better and just say, 'do it better next year'. Unless they got all A's, then it's thank God you sent them to a good school.
Teachers have a tough job and so we wish them all a Happy Christmas.
In sport, we did well at cricket, golf and surfing.
In finance, the dollar remains strong.
Next week I expect our regular psychic to give predictions for 2013. Last year's predictions all came true.
If only we could get a winning racing tipster. Lucky Legs tip for the Melbourne Cup finished in a hamburger somewhere in Perth. Mind you, he was drawn so wide he had to start from the car park…and he had to do his morning job pulling the beer cart on his way to the track. Better luck next year…or we will pick his brother to tip the winners. His name is Unlucky Legs Milligan.
Were the Mayans a little bit out on their calendar?
Who knows!
The Jimmy Saville investigation at the BBC closes without comment.
Gay marriage in South Australia went by without any protest marches.
The latest poll shows Christians are the largest religion in the world. Is there any link between this news and whats happening in the world?
Here's wishing a Merry Christmas and a Happy New Year to you all.
by Tommy Taylor