They lived in a magnificent $7 million listed mansion built by royalty, complete with 200 acres of land stocked with prime cattle and sheep.
Pamela Palmer and her son Joseph told neighbours they came from a fabulously wealthy Australian family and appeared to be eccentric animal lovers who shared their house with a menagerie.
It included a pet lamb allowed into the bedroom, cats, dogs and a badger in the basement.
But in reality the Palmers had neither the financial means nor the will to care for the hundreds of animals they owned, a court heard today.
Sheep starved to death inside a derelict building after eating soil from the floor in desperation to find food.
Cattle that were once in prime condition were left to suffer in agony for 'years' because serious injuries were left untreated, magistrates heard.
 And when the authorities finally moved in to take over Sheriff Hutton Hall, near York in England,they discovered several
neighbours had also paid a high price for trusting Mrs Palmer, 70, and son Joseph, 30.
One woman claimed outside court she was so convinced by Mrs Palmer's wealth she sold shares and re-mortgaged her own home to lend her $1.2 million and another neighbour is said to have given her a $450,000 loan. Not a penny has been repaid.
The court heard the truth about conditions on the estate was revealed when officials from Mrs Palmer's bank re-possessed the house and estate in April last year. She was also declared bankrupt last December.
Mrs Palmer today pleaded guilty to three animal cruelty charges at Selby Magistrates Court and her son admitted seven similar offences.
Each of the defendants were sentenced to just 18 weeks in jail, suspended for 12 months, and banned from keeping cattle, sheep, goats, pigs, horses and donkeys for life.
Mr Palmer was also ordered to carry out 100 hours unpaid work.
Mrs Palmer told the court she was officially homeless and had been living with friends and in motels.
It represents a spectacular fall from grace by a woman who moved to the UK in 1993 with her elderly father, a former stockbroker from Sydney.
With the help of substantial bank loan Mrs Palmer is said to have bought the grade one listed mansion…built by King James 1 as a hunting lodge in the early 1600s…for around $4.5 million and spent $5 million renovating it.
One RSPCA inspector described the interior as 'looking like a stately home' with antique furniture, fine paintings and oak-panelled reception rooms. She bought 16 fireplaces from Sotheby's to install across the four floors of accommodation.
The court heard Mrs Palmer previously lived on the family's massive Australian farm where she kept 'tens of thousands' of ewes without a problem.
But Prosecutor Philip Brown said RSPCA inspectors found shocking evidence of animal suffering when they were called in to investigate. 
Attempts had been made to burn cattle carcasses and bury them in the family's former swimming pool.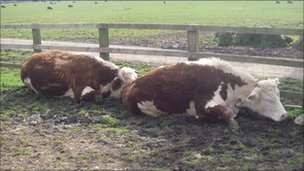 Five dead sheep were found in a derelict coach house and a Hereford cow and bull were in such a state they were put down by the vet immediately.
Up to 500 sheep and 200 cattle lived on the estate and they owed their relatively good condition to the generosity of a caring local farmer who provided food and water and worked there on a casual basis.
The court heard the farmer Jo Welford was so concerned with the animals' welfare he helped look after them without pay and was later unfairly blamed by Mrs Palmer for some of the offences.
Kate Raitt, defending, said before the mansion was re-possessed Mrs Palmer was paying $50,000 a month to a finance company. 'She has lost everything and she now has no money,' she said.
Outside court RSPCA inspector Laura Barber said when she was called in to investigate 'there were people turning up at the gate saying they were owed thousands of pounds' by Mrs Palmer.
One of those neighbours Annabel Holt, 70, lived in Sheriff Hutton Hall during the 60s and came from a wealthy industrial family. She turned up at court to watch Mrs Palmer being sentenced and claimed she owed her $1.4 million.
Mrs Holt said she sold $500,000 of shares and re-mortgaged her own home for $600,000 to help Mrs Palmer out when she was short of money to repay her own bank loan.
She was convinced the funds were available in Australia and she would be repaid, plus interest and an extra sum to cover capital gains tax.
She was never repaid and Mrs Holt had to sell up to repay the debts she was left with.
She said, 'There was no contract or anything like that. She promised to give me the money back on her word of honour. She just didn't have the money, it was a lie.
'I was not the only one taken for a ride. She was very convincing and believable and everybody believed she was very wealthy.
'I told the police about her but never gave them a statement or asked them to investigate.
'She has no money now and so I have no chance of getting the money back. Fortunately I still have enough to live off.'
Robin Barker, a local farmer, said he believed dozens more animals died of neglect and criticised the authorities for not intervening sooner.
He said, 'She is just amoral but she is clever and manipulative. She has no money, everything she paid for was on the never-never.
'There are lots of angry contractors round here who did work on the estate and who she owes thousands of pounds to.'
by Robbo Green