The Simpsons cannot continue without cuts, says Fox.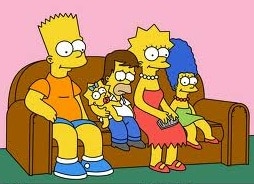 The Simpsons is the longest-running comedy series on US TV and is currently in its 23rd series.
US TV network Fox has said it can no longer afford to produce long-running animated comedy The Simpsons without a pay cut for its cast.
In a statement, it said although the series "can and should continue," it could not produce future seasons "under its current financial model".
Fox made the comment after reports it threatened to end the series unless its voice actors took a 45% pay cut.
The cast reportedly earn $8m each per series.
The principal voice cast members, including Dan Castellaneta, Julie Kavner, Nancy Cartwright and Yeardley Smith, are having difficulty agreeing contracts for the next series.
It said the cast had unsuccessfully tried to negotiate a 30% pay cut in return for a percentage of the show's profits from syndication and merchandising.
Fox added in its statement: "We are hopeful that we can reach an agreement with the voice cast that allows The Simpsons to go on entertaining audiences with original episodes for many years to come."
The Simpsons – currently in its 23rd series – is the longest-running comedy series on US television and is broadcast in more than 100 countries and 50 languages.
The show has a long history of pay disputes between the cast and Fox.
The network threatened to replace the cast in 1998 after they asked to bump up their salaries from $30,000 to $125,000 per episode.
In 2004 production was halted for a month after another dispute in which voice actors asked for around $360,000 per episode.
Three years ago, the show was delayed again for several months after contract negotiations stalled over a new four-year deal which eventually saw cast members' pay packets increase to $400,000 each an episode.