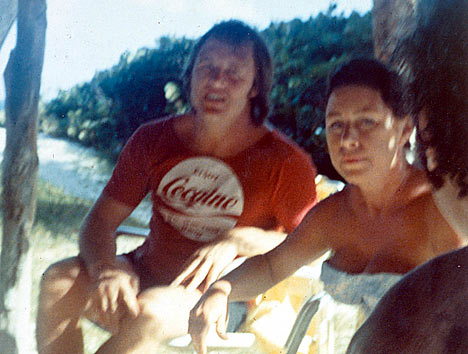 Cheeky John Bindon's T-shirt says that he enjoys cocaine, with Princess Margaret on Mustique in a typical holiday photograph.
He certainly did like cocaine…heroin, too
In the sexually liberating Seventies, Mustique was a private island where the rich and famous could basically do what they liked, when they liked.
These are the days when you couldn't get a sneaky snap of somebody on your phone, and of course the digital age wasn't yet upon us. So if a reporting photographer was found snooping around, the film inside the camera would be forcibly removed.
Because it was an owned island and there would be 'special agents' all over the place, those who went there were pretty much hidden from the outside world.
It was quite common, well not common, but nobody would really take any notice if a couple were on the beach 'making out'.
You may have heard about the most famous couple to make love on this particular beach were the Queen's sister, Princess Margaret, and London gangster come actor, John Bindon. Who was apparently the inspiration behind Vinnie Jones's character in Guy Ritchie's film Lock, Stock And Two Smoking Barrels.
Princess Margaret's affair with Bindon has been the subject of speculation for many years.
A British film, The Bank Job, provoked new suggestions that sexually incriminating pictures were secretly taken of her in Mustique.
The film suggests compromising photographs of the Princess taken on the island were at the centre of a bank robbery in London in the early Seventies.
It claims that the £500,000 raid – £5million in today's money – on Lloyds Bank in Baker Street was aimed at securing the pictures.
It became known as the "walkie-talkie bank job" because a member of the public overheard the robbers talking on a two-way radio.
This colourful study of Princess Margaret was taken in 1949, when she was aged nineteen.
But then, mysteriously, a 'government gagging order', prevented further coverage of the raid.
Stunning model Vicki Hodge, daughter of baronet Sir John Hodge and sister
of Wendy Kidd, was the long-term lover of John Bindon. She was with Bindon and Princess Margaret on Mustique during his second trip in the Seventies.
She believes that the gangster and the Princess did have a sexual encounter and may well have been secretly photographed.
"John told me he had sex with Princess Margaret the first time he went to Mustique," Vicki said from her home in Barbados.
"He always told me about his affairs, but he refused to go into details.
"In those days in Mustique, everyone thought nothing of making love on the beach.
"It could well have been that Margaret and John's one dangerous moment was on the beach and that someone could have snatched a picture."
Princess Margaret's love affair with Mustique began in 1960. The island had been bought by Colin Tennant, later Lord Glenconner, in 1958 for £45,000, and he gave her ten acres of land as a wedding gift.
She had a house built and called it Les Jolies Eaux – meaning "beautiful waters".  It became her favourite escape from life in London.
By the early Seventies, her marriage to Lord Snowdon was in trouble and she retreated to the island with Roddy Llewellyn, a landscape gardener 17 years her junior.
The wild parties on Mustique, also home to Margaret's photographer cousin, Lord Lichfield, were the stuff of legend.
One tale has it that Llewellyn, Colin Tennant and his friend Nicholas Courtney all stripped naked on the beach to be photographed by Margaret.
Whether she allowed risque pictures to be taken of herself is unclear.
Vicki Hodge – a tall blonde, with a glittering smile, whose past romances included Rod Stewart, Yul Brynner, Ringo Starr and Margaret's nephew Prince Andrew – may have been jealous that her gangster boyfriend was romantically entangled with the Princess, but she wasn't in the least bit surprised.
"John was tall, broad, with an air of menace, coupled with a boyish charisma that rendered him irresistible.
"The Princess loved his cockney accent, his rhyming slang and dirty jokes," she remembered.
According to Vicki, Margaret – who had enjoyed sexual encounters with actors Warren Beatty and Peter Sellers – was also beguiled by Bindon's primary "asset".
One afternoon in Mustique, as a butler served lobster, and illustrious guests supped on champagne and caviar, the Princess, cigarette holder in one hand and a gin and tonic in the other, swopped off-colour jokes with Bindon.
Then, according to Vicki, Lord Glenconner made a startling suggestion.
"He turned to John and said, 'Ma'am knows about your advantage in life and would really like to see it.' "
Tennant, of course, was referring to Bindon's manhood – a sight so spectacular that he routinely displayed it with five half-pint beer mugs dangling from it.
One of his tricks was swinging it around pretending to be a helicopter.
So he didn't think twice after the extraordinary request. "He jumped up," remembers Vicki "and with Princess Margaret and her lady-in-waiting in tow, walked along the beach.
"Then he took out his appendage. The Princess examined it rather like a fossil. We all gasped".
Vicki knew she was witnessing a drama the Princess was enacting for her own and John's amusement.
For, she had probably already seen Bindon's much vaunted asset.
Margaret, as those who knew her will attest, was a little in love with danger.
Yet nothing in her privileged universe had prepared her for the danger inherent in John Bindon.
Born into a tough, working-class family in Fulham, West London, Bindon had been beaten by his violent father, and by the age of 16 was in Borstal.
After that, he served two years in Maidstone Prison for attacking a man with a bottle.
It was there Bindon got to know Frank "Mad Axeman" Mitchell, a crony of the omnipotent Kray Twins, who ruled London's underworld.
But as Bindon's career as an enforcer for the underworld took off, his brutal good looks opened yet another, quite different door.
Director Ken Loach spotted John in a Fulham pub and cast him in his seminal film Poor Cow, he began taking small parts in other films.
He invariably played a thug, acting in the classic, Get Carter with Michael Caine, Performance with Mick Jagger and Barry Lyndon with Ryan O'Neal.
It was while making Performance that he met Vicki Hodge, the rebellious, stunningly beautiful daughter of a baronet.
"The attraction was instantaneous. It was typical of me – always a rebel and an adventuress – to fall for the most dangerous man in London, worlds apart from my upbringing," she said.
Dazzled by him, she managed to overlook the shocking evidence of who he really was and the violence he wrought.
He once cut off a man's arm with a machete, and ultimately turned his thuggery on Vicki during arguments when he lost his temper.
Bindon also had a particularly vicious fight with gangster Ginger Chowles.
Gingers' son, Vince, remembers, "My Dad was drunk and having a go at Bindon.
"Then Bindon ran over and kicked him so hard my dad fell down the stairs and broke his arm.
"Bindon jumped on top of him and continued hitting him.
"Eventually, a showgirl called Suzie broke them up. Bindon walked away virtually unscathed."
On another occasion, an angry Bindon laid into a pub manager, of course by accident, and broke his jaw.
As was Bindon's usual reasoning, they had a "little misunderstanding".
Afterwards, the pub manager said he had never been hit so hard in his life.
This, then, was the man who was introduced to Princess Margaret. The wayward Princess was instantly fascinated by him.
And if anything was going to happen between the pair, Mustique was the perfect setting. Nude sunbathing was de rigueur, and at lunchtime, cars would deliver silver, fine china, all manner of delicacies and champagne, which maids and butlers set out on the beach.
Then the party would continue. "No one was that worried about security," Vicki explained, "so MI5 would monitor things from the top of a cliff and not crowd the Princess.
"John became a sort of court jester to the Princess, telling her jokes, pouring her champagne, catering to her in every way, and she loved it."
Bindon spent three weeks on Mustique, basking in Princess Margaret's admiration.
And – smitten by him – she continued the liaison in London.
"There would be phone calls at our flat in Fulham, summoning John to Kensington Palace.
"He would put on a fresh shirt, press his trousers, then a car would pick him up."
According to Vicki, the Princess and the gangster even went out in public together. "They'd never arrive anywhere together, but I saw them at Gasworks, a restaurant where one of the attractions was a chess set with pieces in the form of couples having sex in different positions.
"John and the Princess were always laughing together, and it was obvious she was entertained by him."
All the laughing stopped, however, when Bindon was arrested for stabbing to death a fellow gangster, Johnny Darke, at a London pub.
He was put on trial for murder at the Old Bailey in 1979, but after actor Bob Hoskins stood as a character witness, he was acquitted.
Princess Margaret had finished with Bindon by then, but his arrest and trial must have confirmed to her the extreme foolhardiness of ever having been involved with him.
Instead, she continued to pursue her romance with the much younger Llewellyn, until he jettisoned her for his current wife, Tania. Princess Margaret died in 2002, aged 71.
Colin Tennant was ultimately compelled to sell Mustique. While Patrick Lichfield, Mick Jagger and Tommy Hilfiger still owned houses there, Princess Margaret's son, David Linley, sold her house, Les Jolies Eaux, while she was still alive, at which she was said to be deeply unhappy.
As for John Bindon, his film career collapsed after the trial and Vicki Hodge says he took to selling himself for sex.
In 1993, he died of Aids.
Vicki, the blonde who was attracted to the darker side, moved to Barbados and married a local businessman.
She still lives in the Caribbean, not far from Mustique, with memories of Princess Margaret, her lover John Bindon, and a decadent world long gone.
But perhaps there still exists, somewhere, salacious photographs which preserve forever the moment a princess fell for a gangster.
by Sasha Dubronitz