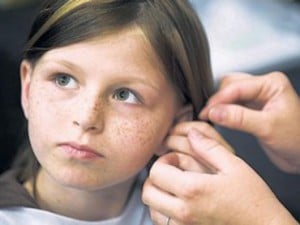 NORTH Carolina police have found a bone they believe could be missing Australian girl Zahra Baker's while her US stepmother has allegedly confessed in a jailhouse letter that something "horrifying" happened to the 10-year-old.
The bone discovery came as US authorities revisited bushland and drained a pond where Zahra's prosthetic leg was discovered a week ago.
The area is a site where hunters dump deer carcasses, but the bone was deemed significant enough by police to be dispatched to North Carolina's Medical Examiner's Office for identification.
The case has taken another bizarre twist with Eric Gein, the proprietor of a US website with a history of communicating with prison inmates, releasing what he says are letters written by Zahra's stepmother, Elisa Baker, from jail.
Hickory police say the letters appear to match Elisa's handwriting, but are yet to publicly confirm if they are authentic.
In the letters the writer claims to be innocent, but points to Zahra's biological father, Adam Baker, as being involved in the disappearance of the young bone cancer survivor, declaring: "He knows what's happened to Zahra."
"We really didn't kill her but what he did after the fact is kinda horrifying. Makes me scared of him," the handwritten letter says.
At another point, the letter writer implicates Adam Baker again: "The cops know where she is and what he has done. That's right. What he has done."
In both letters no concern is shown for Zahra, who had her lower left leg amputated five years ago due to the bone cancer.
The letter writer also describes safety fears and complains "98 per cent of the media stuff is lies. That's why everyone wants me dead."
Elisa Baker is charged with writing a fake ransom note connected with the October 9 disappearance of Zahra from the rented family home in Hickory.
The 42-year-old self-described pagan and gothic who met Adam Baker on the internet, has been locked up in jail unable to make bail since October 10.
Adam Baker was arrested last week on charges unrelated to Zahra's disappearance, including assault with a deadly weapon and writing worthless cheques.
He was released on bail several days later.
The landlord of the Bakers' rented home had evicted them.
Adam Baker and his mother and brother, who flew in from Australia to be with him, were heckled by locals when they arrived at the house to gather belongings.
"I'm putting him out on the street," the landlord said.
Adam Baker's lawyer, Mark Killian, said his client, who left the house with his head bowed and with a suitcase, was struggling.
"It's just real tough for him, obviously," he told reporters.
Adam met Elisa, married in Queensland and moved with Zahra to Elisa's home state of North Carolina two years ago.