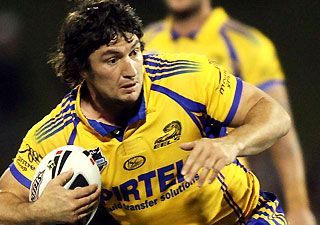 Parramatta NRL veterans Nathan Hindmarsh and Luke Burt have hailed star fullback Jarryd Hayne as a hero for his dramatic rescue of a drowning tourist on Wednesday.
The brilliant fullback, who risked his own safety to save the young girl after she had been caught in a strong rip on Coogee Beach, does not believe he is a hero although his teammates disagree.
"What he did was awesome, he saved someone's life," said Parramatta skipper Nathan Hindmarsh, who jokingly mocked Hayne by entering the press conference with a kickboard.
"Definitely, it wouldn't be the easiest thing to do to go out there in a rip. Haynesy's not the strongest swimmer in the world, it shows a lot of courage.
"We're very proud of him, definitely."
Hayne was less eager to accept praise, as he reluctantly accepted his new nickname "the Hoff" from teammates, in reference to David Hasselhoff's lifeguard character on Baywatch.
But winger Burt was in no doubt about his teammate's impressive feats, especially considering Hayne's less-than-stellar reputation in the pool.
"It shows what kind of a man he is to go out there and do something like that," Burt said.
"It's great that he did something like that for a struggling swimmer, it shows what type of kid he is and what type of man he is to get out and do that, he did a great job.
"He might be a better surf swimmer than he is a pool swimmer, because in the pool he doesn't show too much but obviously he got the job done so he must be alright … he must be strong enough when it comes to that situation.
"Haynesy's a legend for his lifesaving skills."
When asked if he was a hero, Hayne replied: "No, no, nowhere near as such.
"There are people who do it every day, they're the heroes, I was just in a lucky spot… it was something that was pretty scary."
The Eels will be looking to Hayne again for inspiration as they attempt to bounce back from last weekend's surprise loss to Penrith, when they face South Sydney at ANZ Stadium on Friday night.
by Buford Balony