A 57-year-old Altona North man was arrested early on Friday evening over Chaouk's killing.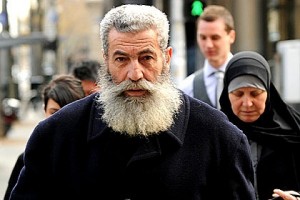 Chaouk, 65, was the head of a clan with a history of crime and in the midst of a violent feud with a rival crime family, the Haddaras.
A magistrate last month referred to the "ongoing war" between the two families, while police said the feud with the Haddaras was an obvious line of investigation.
"That's a fairly obvious inference to draw at the early stages," Senior Sergeant Murray Fraser told reporters at the scene.
Last month, a police raid at the home resulted in the arrest of the youngest of Chaouk's five sons, Omar, following the seizure of guns, ammunition and blank passports.
The raid followed a driveby shooting in June in nearby Altona, in which Sam Haddara, 18, was shot in the face while sitting in a car.
Sam is a cousin of Mohamed Haddara, who was killed a year earlier in a shooting, and there have been a series of alleged tit-for-tat violent incidents between the two families since.
Chaouk's nephew Ahmed Hablas, 22, was charged in June with Haddara's murder.
Hablas's lawyer Alan Swanwick said his client feared for his life in custody as members of the Haddara family had vowed to take revenge.
Mr Swanwick also represented Omar Chaouk in his bail hearing last month, arguing his client should be released because he was needed to help protect his family.
Magistrate Fiona Stewart said that was precisely why he should not be released.
"There is an ongoing war between two families and the court should be extremely worried about the danger posed to the community by it," she told the court.
As nearby schools were closed on Friday, Special Operations Group officers stormed the Chaouk house and a large crowd of angry and devastated family and friends gathered outside, confronting police and a large media pack.
The gunman appeared to have shot Chaouk through a large hole in the back fence on Conifer Street, while the 65-year-old's wife, another family member and three of his preschool-aged grandchildren were home.
As they desperately tried to revive him, the gunman got back in the car and fled down Geelong Road.
TV news helicopters captured images of his grieving wife Fatma slumped over her husband's body, which was covered by a light blue sheet in the ramshackle backyard.
Chaouk himself had a string of convictions, dating back to assault in 1975, six years after he arrived in Australia from Lebanon.
He was convicted for heroin trafficking in 1983 and was sentenced to five years jail for the same offence in 2000.
In 2005, one of his five sons, Mohammed, was shot dead by police in a raid on the family home.
A second son, Matwali, 26, is in custody on attempted murder, drug trafficking and theft charges, while his brother Ali was last month refused bail over a brutal bashing that left a German tourist with a fractured skull.
Another son, Waleed, was arrested in last month's raid but was released without charge.