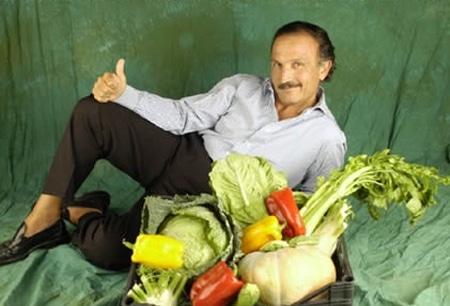 A probe has been launched in Italy into the Mafia's stranglehold on tomatoes after a TV personality claimed the Mob were heavily involved in the multi-million pound industry.
Italians found themselves in a sauce when Alessandro Di Pietro told viewers of a prime time food show to boycott the country's famous Pachino brand tomatoes.
They are protected product in Italy and are mainly grown around Pachino, on Sicily, stronghold for the Mafia, and Di Pietro told viewers organised crime had muscled into their production and distribution pushing up prices.
Every year more than 6,000 tons of Pachino tomatoes are harvested with prices averaging around $4.80 a kilo but they can sell for as much $7.50, creating more than $27 million worth of business.
The cherry shaped tomatoes have a sweet taste, good consistency and
durability and their skin is smooth and shiny with Italians using them mainly for pasta sauces and pizza toppings.
Di Pietro said, 'The production of Pachino tomatoes is in the hands of the Mafia and they should be boycotted.'
His comments provoked outrage in the Italian government with ministers calling for him to retract his remarks.
Agriculture minister Giancarlo Galan said, 'What he said is totally unacceptable, initiatives such as these should come from proper bodies who deal with tackling organised crime.'
Stefania Prestigiacomo, Environment minister, who is also from Sicily added:'RAI should put out an immediate retraction because these sort of absurd accusations only cause damage.
'It is intolerable that something like that should be said by the public broadcaster of an industry that involves more than 5,000 producers, who pride themselves on their excellence.'
In his show Di Pietro told viewers on the on the state broadcaster RAI that prosecutors had smashed a Mafia organised fruit and vegetable wholesaler and distributer based at Fondi south of Rome last year.
By controlling the distribution of the tomatoes to shops up and down Italy, Mafia clans are ensuring Italians pay up to 11 times what growers sell for, and pocketing the difference, he said.
MP Fabio Granata said,'I have asked that the parliamentary anti Mafia commission investigate the production and distribution of Pachino tomatoes in Italy.
"I want to know exactly if there is anything that confirms the allegations that were made on the TV programme.'
However Italy's agriculture union Confagricultura slammed the proposed boycott and said in a statement:'To call into question the Pachino tomato and suggest a boycott is a very serious mistake.
'The Pachino is a symbol of Italian agriculture and it is being criminalised for no reason, such baseless speculation tarnishes the image of our products which have taken years to build up through hard work.'
by Sasha Dubronitz