What better way to protest the toughening of a dress code than to remove the dress altogether?
University students in Hungary have done exactly that after their alma mater asked its pupils to refrain from wearing miniskirts, flip-flops or heavy make-up.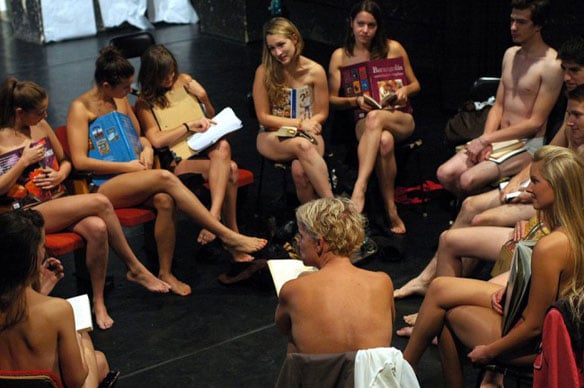 Riled students at Kaposvár University, which is in the south-west of the country, decided to take matters into their hands by sitting naked for one of their lessons.
A letter from university officials to students had said: 'From October 1, there is also no place in the university for mini-skirts, flip-flops, heavy make-up, inappropriate fashion accessories, or unkempt fingernails and hair.'
Men were also asked to wear dark suits, while women are now expected to wear long skirts or trousers, too.
The art class which staged the protest were pictured in a circle with nothing but textbooks shielding their modesty, and some did wear a bit of underwear.
The students were joined in the protest by their professor, all of whom were photographed fully-clothed before stripping off.
Female and male protestors took part, while another is apparently being staged for Monday which will see students wrapped in beach towels and wearing flip-flops to class.
They say that the university had failed to match the new dress code to warmer days, when it can often hit 30 degrees during the summer months.
by John Jackson