What was a woman to do if she wanted to boost her cleavage in the days before Wonderbra was on the market and the more drastic measure of plastic surgery wasn't so readily available?

The answer is by wearing an inflatable bra that the wearer could blow up to the size they desired themselves.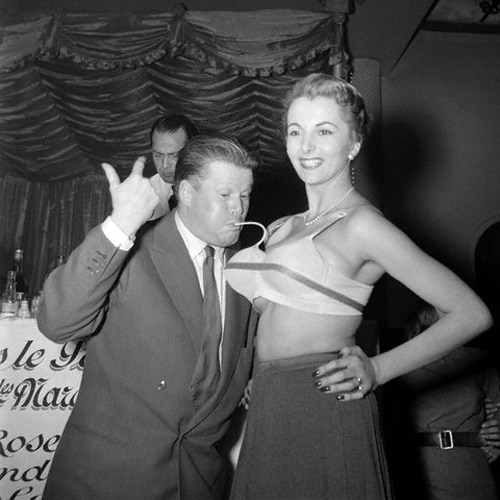 The 'Trés Secret' inflatable bra went on sale in the early 1950s. Each cup contained a small plastic pouch that could be inflated by the wearer with an accompanying mouthpiece.
Its makers promised the bra could give any woman 'a boost to bosom beauty' with their advert adding, 'Do it yourself. Make the most of you. Blow up!! To be the size you want.'

The unusual lingerie is one of many items on display in an exhibition that charts the changes in our underwear over the last three hundred years.
Also on display is a busk that has been stamped with a secret love message for its owner and corsets that could create painfully small waists.
Men have also not been forgotten with examples of long johns to Y-fronts illustrating the change in tastes for men's under garments.
The oldest items on display are a woman's corset from the 1770s and a man's shirt from the 1780s while the most recent garments are from Next's current lingerie range.
The collection is being exhibited in Leicestershire, England, but I'm told it will be over here soon. Alongside the alluring and quirky lingerie, the exhibition also shows how underwear has evolved for practical and health reasons with the development of sports bras and use of more comfortable fabrics.

by John Jackson