He's made it a personal mission to turn around the fortunes of struggling restaurants…but chef Gordon Ramsay's problems with his own empire keep mounting.
The star of Ramsay's Kitchen Nightmares has closed Maze and Maze Grill in Melbourne's Crown Metropol hotel…a decision that caused surprise among hotel staff.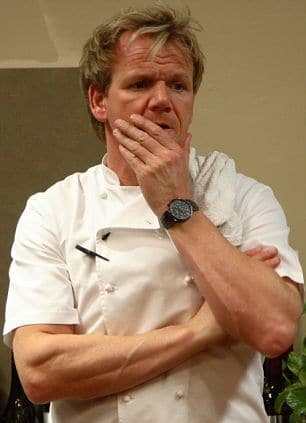 'Gordon made the decision without telling the Crown Metropol…people there were shocked,' says a source. 'He says the business is not sustainable. It all happened very quickly.'
The foul-mouthed chef, 44, who lives in America with his wife Tana, 37, and their four children, had previously claimed he wanted to 'fuck off to Australia and retire', but those plans may now be on ice.
To add to his woes, the star is also facing a $2 million court battle in New Zealand after pulling out of a number of charity engagements…citing personal reasons.
Ramsay and his long-term business partner, Tana's father Chris Hutcheson, have been embroiled in a very public split, with Ramsay accusing him of taking money out of parent company Gordon Ramsay Holdings (GRH). Ramsay has blamed his father-in-law for a financial crisis that has seen the closure of a number of his restaurants around the world.
A GRH spokeswoman said, 'We have put Maze and Maze Grill into liquidation. Since the recent change in management at GRH, we have been conducting reviews of all of our group operations and concluded the business was not sustainable.'
The Queen is enjoying watching Cricket with Prince Philip at Balmoral during her summer holiday
She added that the chef had made a private donation to the New Zealand charity involved in the High Court Case. 'This issue came about as a result of two very difficult situations both of which were out of Gordon's control. He was extremely sorry for any disappointment caused and made a personal donation to the charity.'
Meanwhile, Ramsay's latest venture, Bread Street Kitchen near St Paul's Cathedral, is due to open next month.
I am told the Queen has been indulging her passion for watching cricket while at her beloved Balmoral this summer.

This may be because she has reportedly cut back on her daily walks in the grounds of her Scottish estate due to increasing mobility problems.

'The Queen watches every single match possible,' says my source. 'She and Prince Philip are cricket addicts.'

There's certainly been no shortage of action lately, with England rising to the top of the world rankings after thrashing India 4-0 in the recent Test series.
by Vandas Voice