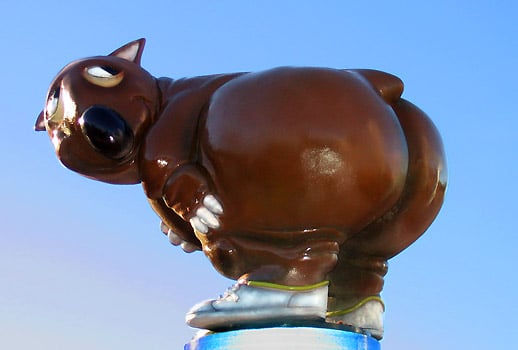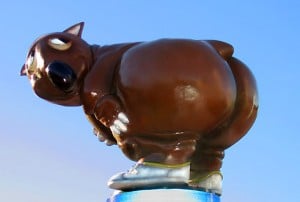 HE was vandalised during an abduction attempt weeks ago, and now, brazen thieves have struck – Fatso The Fat Arsed Wombat has been stolen from his plinth outside ANZ Stadium at Homebush.
Fatso achieved global fame at the 2000 and 2004 Olympics as the mascot of HG Nelson and Roy Slaven's show, and was immortalised in bronze.
But his effigy went missing after Sunday's grand final and his former "boss" HG Nelson, now of Triple M's The Life, felt like being admitted to intensive care after hearing the news. HG feared Fatso was being held hostage.
"Maybe we'll receive a ransom note saying he will be murdered unless $1.27 million is handed over at 5.05pm Saturday at the Mount Keira carpark above Wollongong," he mused.
HG has vowed to put together a crack squad of former footballer police officers including Craig Young, Paul Sironen, Paul Dunn and the man he called "detective-wannabe" Brendan Fevola to crack the case.
"They've got sniffer dogs ready to go and they're just waiting for the green light from Olympic Park authorities, who have been most sluggish," HG said.
But another theory could not be ruled out – that Fatso has done a runner.
"I actually think the bloke might have walked off the stand – funny things happen that way and it wouldn't surprise me if this thing has come to life," he said.
"Just stalked off in a huff – he got such a big head when he worked with us and we couldn't take him anywhere.
"He is a valueless problem – all he does is eat roots and leaves and maybe he was in a huff being left out of the 10th anniversary of the Olympics."