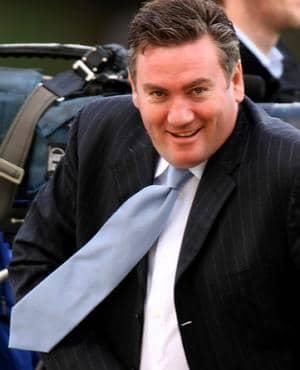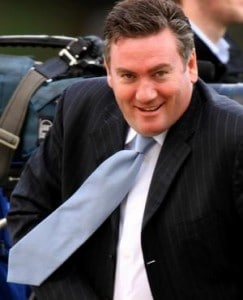 Eddie McGuire has been accused of stereotyping and trashing Sydney's western suburbs, labelling the area the 'land of the falafel'.
The comments on McGuire's Triple M breakfast radio program come as momentum builds for the AFL's 18th team, the Greater Western Sydney Giants, prior to the teams entry into the competition in 2012.
McGuire's jibe was in response to taunting by the Giants foundation coach Kevin Sheedy that he was going to poach players from the Collingwood Magpies, of which McGuire is president.
Mazhar Hadid, a councillor for the Sydney west suburb of Liverpool, was quoted in News Limited publications as saying the comment was 'completely inappropriate'.
An official from Greater Western Sydney Giants was also quoted as saying that the comment was 'disgusting' and sent the wrong message.
It is not the first time that McGuire has landed in hot water for slanderous remarks on air.
McGuire was reprimanded for previously labelling male figure skaters as a bit 'brokeback', a reference to the gay cowboy film 'Brokeback Mountain'.
The comments were made on Channel Nine's coverage of the Winter Olympic Games last year.
Buford Balony says: That's gospel coming from someone from Melbourne, a city we all know has an inferior complex when it comes to Sydney. Anyway isn't Melbourne little Athens? Also how's the little brown creek going, what's it called the Yabba, no no the Yarra.