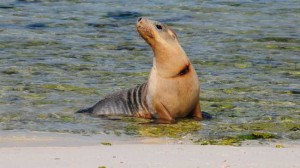 A DOG was rescued after he chased a sea lion more than four kilometres out to sea in South Australia.
The crossbreed dog, called Westie, was walking with his owner along a beach when he dashed off into the water after the sea lion and refused to come back.
Soon the pair were lost from sight over the horizon as the sea lion led the dog further and further off shore, leaving Westie's owner frantic.
Semaphore Surf Life Saving Club captain Craig Van Tenac was part of the rescue effort.
"I'd say it was 4km offshore, that dog swam forever," he said.
Westie was rubbing his nose against the sea lion who was rolling around playfully in the water, he said.
Despite the dog's stamina, Van Tenac doubted Westie, who spent more than an hour in the water, would have made it back to shore.
He said the dog's owner was much relieved to have him back safely.