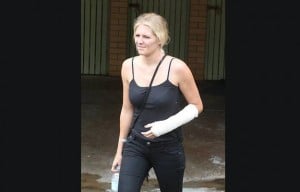 Two weeks after she was viciously attacked outside her Tweed Heads apartment, world surfing champion Stephanie Gilmore admits the emotional scars remain a work in progress.
In the wake of her post-Christmas assault, she's passed the festive season in a whirl of sleepless nights, nightmares and comfort slumber parties with her tight band of friends.
But as the four-time world champion puts it, she's bruised, not broken, and nothing has diminished her spirit – nor that $5 million megawatt smile.
As she stepped up yesterday to talk about signing the richest sponsorship deal in women's surfing history with surfwear giant Quiksilver, the 22-year-old opened up about the attack, life and her undiminished hunger for more world titles.
Out of the water for six weeks, Stephanie Gilmore may not surf again until her opening heat at the season-launching Roxy Pro on the Gold Coast, starting February 26.
The attack left her with a broken left wrist and major ligament damage.
They are healing fast, but Gilmore admits recovering from the mental scars is ongoing as she endures her first break from the sport she fell in love with as a 10-year-old.
"I'm going to have to take some time to heal emotionally and physically. I'm not there yet…obviously thinking about it is still hard," said Gilmore of the December 27 incident.
"It's definitely been a rough couple of weeks, a few sleepless nights. But I know it was definitely a random incident.
"It was just a matter of bad timing. Being in the wrong place at the wrong time, and knowing that has given me a little more peace of mind."
Back home on the Gold Coast over Christmas after icing a record four from
four world titles in Hawaii, Gilmore was returning to her beachside apartment after a movie session with friends was cancelled when she was attacked by a 26-year-old homeless man.
Friends rushed to Gilmore's aid after hearing her screams as she was bludgeoned with a metal bar and tackled him to the ground, holding him until police arrived.
It was an attack that stunned the surfing and sporting world, with Gilmore inundated and eventually overwhelmed by the flood of support.
The girl universally known as "Happy Gilmore" insists the incident won't diminish her free spirit. Nor will she be mired by the negatives.
"It's not something that's going to change me as a person," she said.
"I have drawn so many positives out of this incident, which was such a terrifying thing.
"I've had a lot of time to think about the next five years and what sort of things I want to do and achieve.
"I've never been out of the water my whole life so to spend a solid chunk of time out just makes you more excited, more hungry, more enthusiastic."
by Buford Balony