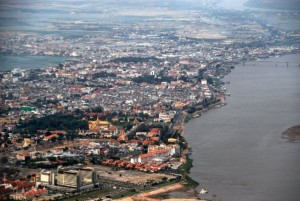 An Australian man has been shot dead after visiting his Cambodian fiance at a guest house in the capital of Phnom Penh, consular officials say.
The victim was named by local police as Eric Liu, the Phnom Penh Post reported on it's website on Sunday.
The department of foreign affairs and trade on Monday confirmed the 43 year old Victorian died in hospital as a result of gunshot wounds to the chest.
Cambodian police say he arrived in Cambodia on Saturday and was gunned down at about 09:30pm local time in the guest houses reception area. He died at Calmett Hospital later that night.
"He has a Cambodian fiance. After he landed he met with his fiance and went to a guest house where he was shot by two suspects". National police spokesman Kirt Chantharith, told AFP.
The post reported that police officer from Phnom Penh's Meanchey district said Mr Liu was shot twice in the chest and right hand by two unknown men on a motorbike.
Australian officials based at the embassy are working closely with local authorities, while employees in Australia are providing assistance to the mans family.
by John Jackson