The family of an elderly woman whose ear was infested with almost 60 maggots is suing her nursing home for negligence and emotional distress.

Catherine McCann, 92, from Chicago, has severe Alzheimer's and because she is unable to speak or care for herself, her husband pays $10,000-a-month for her to live in a skilled nursing home.
But while she was under the care of Lutheran Home for the Aged in Arlington Heights, a fly entered her ear canal and laid eggs which hatched into 57 maggots.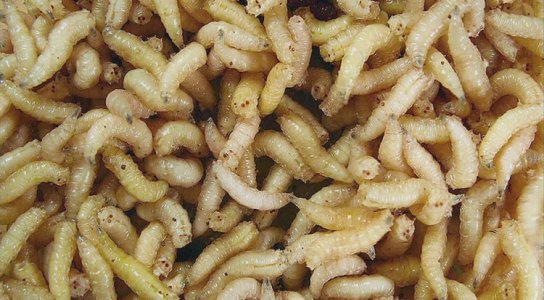 Her husband John McCann, 88, said, 'I was horrified, shocked.  thought it was terrible. I'm paying all this money for that kind of care — no way.
'After giving them $270,000 of my hard earned money…my life savings I gave to them…and not even so much as a note or a call.'
He was told by staff at the home the first sign they realized anything was wrong was when Mrs McCann was tugging and scratching at her left ear.

On closer inspection, a nurse noticed the larvae in her ear and she was immediately taken to hospital.
Surgeons removed 57 maggots from her ear, one of which was already crawling out, and made a videotape to document the infestation.
Mrs McCann's daughter Mary said: 'It's a picture I will never ever get out of my mind – ever. And I was hearing her scream as they were taking the maggots out of her ear.'
When the maggots were sent for analysis, an expert concluded they had been in her ear for two to three days.
Mrs McCann has an enlarged ear canal from a surgery performed decades ago, and requires periodic flushing of the ear, or antibiotics, for infections.
Nine days before the gruesome discovery, the 92-year-old was seen by a doctor for a waxxy buildup and said she should get  drops four times a day for the condition.
Staff at the nursing home said she received drops the night before the infestation was discovered, something which the family attorney disputes.
Henry Guss said: 'I'm questioning whether or not she received the medication in that left ear during this time. Because how can you put drops of medicine in an ear that has 57 maggots?'
The nursing home administrator Phillip Hemmer says a staff members familiar with infectious diseases went to the hospital to see the family but said he does not think the staff did anything wrong.
He believes that until the day the infestation was discovered, the maggots were not big enough for staff to see.
Officials had the home inspected by an exterminator who found no evidence of flies in the home and believe it may have flown in when Mrs McCann was outside for a walk.

Illinois Department of Public Health found no violations in this case.

Mrs McCann's family had her transferred to another nursing home immediately. 
 by Robbo Green