On a winter's day at a gallery in New York's SoHo, a small group of votive candles burned near to a visitor's book.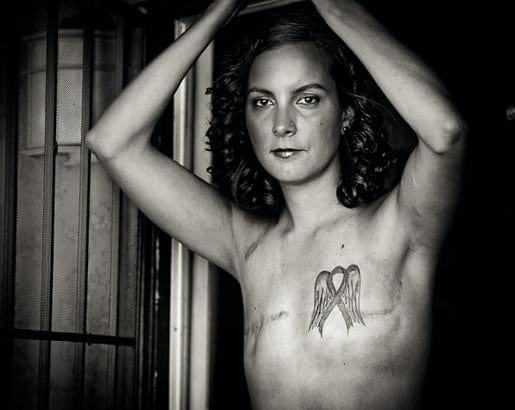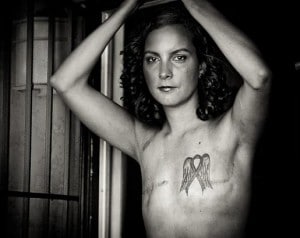 Page after page of heartfelt messages – moving, emotional and raw – filled the book's pages, their strong words not dulled by the candles' soft light.
Nearby, were larger-than-real-life photos along the white walls – black-and-white and colour images blown up to proportions that demanded attention.
Their subjects, breast cancer victims, stared into the lens, exposing the gritty rawness of their ordeals. Their faces, uncompromising in their honesty and unflinching willingness to show breast cancer for what it really is, are now collected onto The SCAR Project's site, where women are encouraged to take part in the artistic rendering of the unforgiving illness.
It was personal contact with the disease that five years ago made David Jay turn his camera away from the fashion models he is used to shooting and onto his friend, Paulina, a 29-year-old who was forced to have a mastectomy within two weeks of her cancer diagnosis.
'I never intended to shoot The SCAR Project,' explains Mr Jay. 'A beautiful, strong, young woman, I had taken Paulina's picture a hundred times since she was 17. I saw her soon after her surgery and knew I would have to shoot her again. I took her picture because, perhaps as a photographer, taking pictures is my way of confronting, understanding and accepting the things I see.'
From that 'beautifully disturbing portrait', as he put it, the project mushroomed – young women between the ages of 18 and 35 who have breast cancer were sadly not hard to come across.
On his website, Mr Jay explains that the project has originally started as an 'awareness raising campaign' but soon evolved into far more. He said the project has put a 'raw, unflinching face on early onset breast cancer while paying tribute to the courage and spirit of so many brave young women.'
Key to the pictures' power, he says, is their honesty: 'I'm not going to just show half the story – that everything's going to be
fine and these girls have breast cancer but they'll just go on with their lives – because that's not the case.
'I wish that was the case but the reality is that some of these girls are dying and it's important to have their story out there as well because that is the reality of the disease.'
To that end, the pictures are not celebrations of conquering the disease – several of the brave ladies have since died, and one woman who was due to be photographed died days before her shoot. Hanging in the place of her portrait was an empty black frame.
Another, her face disfigured, a scar running from her chest to her bottom lip, sits near a dog. She died, aged 25, just days before the exhibition launched, a vase of flowers placed at the foot of her portrait alerting visitors to her sad story.
The body of work, ever-growing and featuring nearly 100 woman so far, is a dedication to the 10,000 women under the age of 40 who will be diagnosed with the disease this year alone, explains the project's site.
Women from America and across the world have travelled to New York to be photographed by Mr Jay – and he feels the pictures have given each and every cancer victim a powerful personal victory.
'It helps them reclaim their femininity, their sexuality, identity and power after having been robbed of such an important part of it'
'For these young women, having their portrait taken seems to represent their personal victory over this terrifying disease,' he states on SCAR's site. 'It helps them reclaim their femininity, their sexuality, identity and power after having been robbed of such an important part of it. Through these simple pictures, they seem to gain some acceptance of what has happened to them and the strength to move forward with pride.'
The photos have been made into a book – a deep slash across the black hard-backed cover a grisly testament to its contents – and a documentary DVD. It is hoped the project will raise funds for research into the early-onset disease.
Accompanying details about each photograph contain words from the subjects. Some are valiant, others are introspective.
One wrote: 'I stare into the eyes of my corpse. But I still feel, so I know I still live. And for life, for my life, I will continue to fight.'
Another says she 'see[s] it as something to leave this world after I'm gone. Something for my family to look at and never forget the fight that I fought for my life.'
Yet another echoes the sentiments of several of the women: 'As part of the SCAR Project, I can "just be me". No covering up or masking the truth. No pretending that everything is fine. Here I am. This is me now. This is my life.'
The gallery exhibition is due to go on display in Washington DC in October this year and has plans to open in LA.
Perhaps, as one of the subjects wrote, the pictures may help others detect the disease: 'I am glad I didn't listen to people who thought I was too young to get breast cancer. I listened to my body instead.'
by Mike Hansom