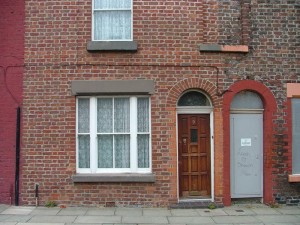 Ringo Starr's childhood home has been saved from the bulldozers after the government stepped in.
Council chiefs planned to demolish the two-up two-down house where the Beatles drummer was born as part of a slum clearance programme.
But last night they were halted so the community could put forward a rescue plan.
The tiny terrace at 9, Madryn Street, Liverpool, could now be turned into a museum with neighbouring properties spruced up as low cost starter homes.
The city council wants to knock down 444 Victorian homes to make way for a modern estate.
But Housing Minister Grant Shapps said, "It's right that the people of Liverpool decide whether they want Ringo's house to be demolished or Let It Be."
Ringo, 70, lived in the house until he was three.
Who really cares where Ringo lived. In fact, Ringo didn't give a shit whether it got knocked down or not. He's actually a relatively normal person…considering how big the Beatles were/are.
I can't believe the public actually care about it. He's just a man…who played the drums in a band…that's it.
He wasn't a great drummer, although he is very under-rated, although it must be said, he wasn't even the best drummer in The Beatles.
by Wallace McTavish