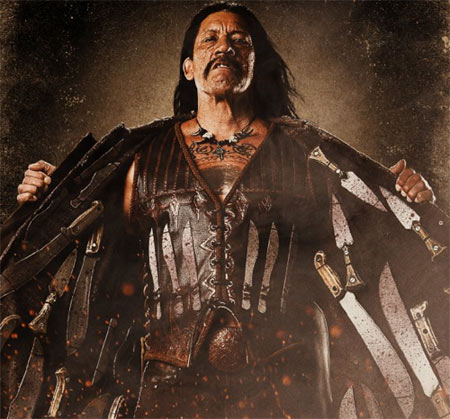 Machete is a 2010 American action film co-written, produced, and directed by Robert Rodriguez and Ethan Maniquis. It is an expansion of a fake trailer that was released together with Rodriguez' and Quentin Tarantino's 2007 Grindhouse. Machete continues the B movie and exploitation style of Grindhouse including in part the same footage. Danny Trejo stars in his first lead role as the title character. He also played a character named Machete in the Spy Kids franchise, which Rodriguez also directed.
Also, it is going to be different because a series of comics are going to be released on after the film.
The film also stars Robert De Niro, Lindsay Lohan, Jessica Alba, Michelle Rodriguez and Steven Seagal, who filmed scenes for the film during the autumn of 2009. While, Cheech Marin and Jeff Fahey returned to portray their characters from the original trailer.
The first screening took place on September 1, 2010, out of competition at the 67th Venice International Film Festival. Machete was then released in the United States by 20th Century Fox and Rodriguez' company, Troublemaker Studios, on September 3, 2010.
The story revolves around an illegal immigrant, Machete (Danny Trejo), a
former Mexican Federale turned renegade. After a shakedown with a druglord (Steve Seagal), Machete roams Texas looking to do yard work in exchange for money. Michael Booth (Jeff Fahey), a local businessman and spin doctor, explains to Machete that the corrupt Senator McLaughlin (Robert De Niro) is sending hundreds of illegals out of the country. In order to stop this, Booth offers Machete $150,000 to kill McLaughlin. Machete accepts the murder contract. As Machete attempts to assassinate McLaughlin during a rally, he is double-crossed and one of Booth's henchmen shoots him. It is revealed that Booth orchestrated the entire attempted assassination as part of a false flag operation to gain public support for McLaughlin's harsh anti-illegal-immigration laws. By setting up Machete as the patsy, the conspirators make it appear that an outlaw illegal Mexican immigrant has tried to assassinate the senator.
Danny Trejo, Cheech Marin, and Jeff Fahey were announced to be reprising their characters in the trailer for the film. Tito Larriva did not reprise his role for unknown reasons and was replaced by Shea Whigham. Michelle Rodriguez was the first actor to be cast in the film who was not in the original trailer. Chris Cooper was approached for the role of Senator McLaughlin. He reportedly stated that the script was "the most absurd thing I've ever read" Robert De Niro portrayed McLaughlin instead. "What I liked about the character was that it was a fun thing to do in a sense of irony and it's not taken seriously. He's not taken seriously on one level so that frees you to have fun without being weighted down by some requirements," says Robert De Niro on the role.
Jonah Hill was originally cast as Julio, but was replaced by Daryl Sabara, who had worked with Rodriguez, Marin, and Trejo on the set of the Spy Kids franchise. On casting the role of Benz's daughter, April, Rodriguez revealed, "Lindsay's cool…There's actually a cool part in the movie if she takes it" Lohan dyed her auburn hair to a platinum blonde for the film.
"My character is an Immigrations Officer and she hunts him (Machete) down and she finds out that he was double-crossed himself. She wrestles with her own right-wing kind of mentality because she's all about enforcing the law and doing what the system tells you," says Jessica Alba on her role of Agent Sartana.
"This movie has the most 'out-there' amazing cast. People were wondering 'Why this mix of actors? What kind of project is this to have Robert De Niro in the same movie as Steven Seagal with Don Johnson and Lindsay Lohan, Jessica Alba, Michelle Rodriguez, Jeff Fahey, Cheech…and with Danny Trejo in the lead'. It just sounded bizarre but when you watch the movie, everyone has their place and everyone fits in very well. Everyone plays their character really well," says Robert Rodriguez.
Regarding the nudity was present in the film, Rodriguez mentioned that he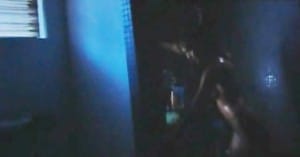 deliberately set the first scene with a nude woman (actress Mayra Leal) as that makes people think that subsequent scenes show more than they actually do. Jessica Alba mentioned that for her shower scene, "I had undies on, and I had other stuff on, and they just sort of etched it out in post production. That's not really me. I'm better covered up."
An injured Machete is taken to a hospital to be treated for wounds, and escapes from Booth's henchmen sent to kill him. Agent Santana Rivera (Jessica Alba), a persistent U.S. Immigration and Customs Enforcement agent, is sent by her superior to go find and capture the injured Machete. Machete, with the help of Shé (Michelle Rodriguez) recruits Padre (Cheech Marin), Machete's "holy" brother. To take revenge on Booth, Machete kidnaps Booth's wife and his daughter, April (Lindsay Lohan), who has a penchant for guns. After encountering Machete, Santana begins to develop an interest in him. Machete rallies a group of illegal immigrants together, and begins to hunt the people who double crossed him.
The film has received mostly positive reviews. Review aggregator Rotten Tomatoes reports that 71% of critics have given the film a positive review, based on 99 reviews, with an average rating of 6.4 out of 10. The site's general consensus is that, "Machete is messy, violent, shallow, and tasteless — and that's precisely the point of one of the summer's most cartoonishly enjoyable films.
by Wallace McTavish