Alice Cooper has appealed to his fans for help after thieves stole several items from his LA storage facility.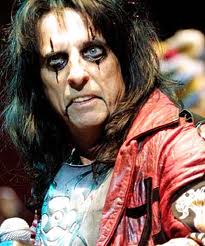 The haul, which included the rock veteran's jacket he wore in 1992 movie Wayne's World, original vinyl records and a sculpture featured on the cover of the star's 1991 album 'Hey Stoopid', was swiped  from the Alice Cooper Archives.
Three other storage facilities in the area were also broken into.
A statement posted on the singer's official website Alicecooper.com read: "If anyone sees anything suspicious or hears anything about these stolen items – especially on the internet or in Los Angeles – please let us know at [email protected]. Thanks sick things."
Referring to his jacket, it added: "The jacket in question is in fact the John Richmond jacket, better known as the one worn in Wayne's World. It's one of a kind, and is unmistakable. If you see anyone selling it, please write to us immediately."
Cooper has a cameo role  in the new Tim Burton film adaptation of the American soap opera Dark Shadows.
by Wallace McTavish