The Pixies are giving away a new free EP from their official website.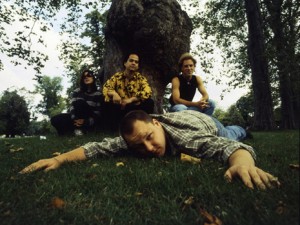 The EP consists of four live tracks which were recorded during the band's set at Coachella in 2004 and is available to be downloaded now from Pixiesmusic.com.
The show was one of the first times the influential band had played together for over 11 years and they posted a message about the set on their website, writing: "We have a special treat for you. This week, finding ourselves between two consecutive weekends of Coachella for the first time ever, we thought it fitting to rifle through the Pixies vault in search of an apt celebration. So, we're very pleased to bring you a completely free download of four tracks from Pixies' memorable '04 Coachella performance."
Pixies completed a full US and world tour last year, playing their seminal 1989 album 'Doolittle' in its entirety. They haven't scheduled any further shows since that tour came to an end.
The tracklisting for 'Coachella '04 EP' is as follows:
'U-Mass', 'Monkey Gone To Heaven'  'Hey' and 'Caribou'.
by Wallace McTavish