Suede have reformed to perform at the O2, London, in December.
But what about after the gig? What happens next?
Suede front-man Brett Anderson reckons that every band that's ever reformed has been rubbish the second time around.
Well Brett, that's not strictly true. Of course  it's just opinionated drivel but when the Sex Pistols reformed to do a one-off concert at Finsbury Park in 1996…I've got to say…they were fucking brilliant. I mean, who'd have thought that Johnny with his Rotten teeth could have pulled off a massive
outdoor concert. They sounded great and since poor old Sid had died, God Bless Him, the band with original bass player and writer, Glen Matlock, were a tight unit.
Although Glen looks like he should be in Spandau Ballet at times.
So, Mr Anderson, upon what foundation did you make that statement?
It doesn't matter if he's wrong, because Suede are a great band that came out of some pretty dire musical times.
The first album had Downer, Animal Lover and the 'oh so wonderfully haunting' Sleeping Pills. And they were good life, too.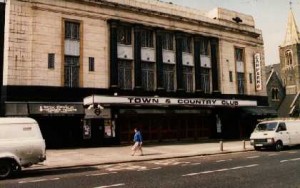 I first saw them in North London at the, 'then called', Town and Country Club, in Camden.
Blur were on their second album and headlined the evening. There were also two other bands on the bill and they were Mega City Four and I can't for the life of me remember the other one…
They can't have been as bad as MCF because I would have remembered it. MCF were shit, and this was due to the fact that the band was just shit…no other reason.
Suede were on before Blur and they were excellent. Brett was a cross between David Bowie and Morrissey, with a real Mod feel to it.
When Blur came on, they looked like they didn't really want to be there. It
really did show that the band wasn't going to last at that point. I remember speaking to Dave Rowntree, Blurs drummer, afterwards and admitting that the record company was getting a bit pissed off with them. But, as we all know, the next album was Parklife and the rest is history.
Suede then played at the 121 Club in Oxford Street. They were the only band on and that was when it was clear that they had something.
They performed with a certain kind of arrogance. It might have pissed 'some people' off, but even if it did, those 'same people' were wishing they could be arrogant like Suede. Because tomorrow morning, again, those 'same people' were back to their daily lives, with jobs, taking shit off of the boss…but Suede would still be that arrogant out-fit that was gearing itself up to another gig later that evening.
Suede made your young working class man feel a little different…for a few hours at least…might go the club afterwards…get a shag…or might even get into a fight with some wankers from Dagenham that should never have ventured out of their manor.
Bernard Butler left the band in 1994 but Suede continued to write great albums with some great pop singles. Butler stated that he never wanted to play with Suede again, so he wasn't even asked about the reunion. Although Bernard and Brett did get together to remaster their old songs for a new compilation album, as ever, imaginatively called, 'The Best of Suede', which has just been released.
The line up consists of singer Brett Anderson, 43, guitarist Richard Oakes, 34, bassist Mat Osman, 43, drummer, Simon Gilbert, 45, and on keyboards Neil Codling, 36.
The band haven't made any plans as what to do after the concert, but it would be good for us to see them do a tour, just to remind ourselves their emergence out of the decadent music scene at the time.
by Wallace McTavish