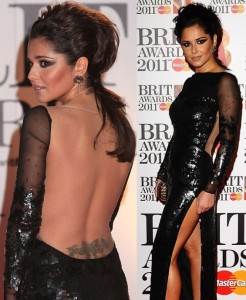 Cheryl Cole has revealed she and Rihanna could work together on a new single.
During an interview backstage at the Brit Awards on Tuesday night, the X Factor star said she and Rihanna had talked about releasing a record together.
Talking about the Bajan singer's performance at the ceremony, Cole said, 'Rihanna was smoking hot. I love Rihanna. She was probably my performance highlight.
'I love her. I would love to do a performance with her and do a single with her. I would love to do a record with her. She feels the same.
'There could be wheels, there could be motions.'
During the awards at the O2 Arena, Cole was caught giving Rihanna a cheeky pat on her bottom as she awarded her 'girl crush' with her gong.
As she presented the award, the Parachute singer said, 'And the winner of
the Best International Female solo artist is, my girl crush, what's her name? Rihanna.'
Meanwhile, the 27-year-old looked stunning in a backless black Stella McCartney dress as she headed to the Universal after party at the Savoy Hotel last night.
Making a leggy entrance in the split-to-the-thigh gown, an anxious Cheryl was mindful to protect her modesty by keeping a hand on the top of her split.
After making her onstage appearance at the O2 Arena in Greenwich, the Girls Aloud star headed five miles away to carry on the festivities.
Universal, the parent company of her record label Polydor, played host to an array of stars, including Pixie Lott, Take That and Eliza Doolittle.
But unlike some of her contemporaries, Cole looked composed as she left the bash this morning.
While she may have been disappointed by going home empty-handed, there was no sign of it as she partied until the early hours.
The X Factor judge missed out on the British Female Solo Artist and the British Single awards.
She was pipped to the post for the British Female Solo artist by relative unknown singer Laura Marling, and lost out to Tinie Tempah on the British Single award, for which she was nominated for her single Parachutes.
But despite her double loss, she beamed brightly for the cameras as she demanded the flashbulbs' attention in her sparkling gown.
Cheryl wasn't the only one to miss out last night, as Take That were pipped to Best Album by public school boys Mumford & Sons.
by Wallace McTavish