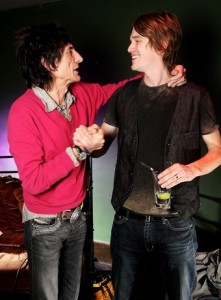 The son of Rolling Stones star Ronnie Wood has been 'going through rehab,' his father has revealed.
Veteran guitarist Ronnie, who himself has had seven stints in rehab during a three decade long battle against drink and drugs, has told how son Jesse has been receiving treatment.
And Wood, who has now been clean for eight months himself, has revealed that he has been helping Jesse, 34, deal with his own demons.
Jesse's mother was Ronnie's first wife, former model Krissy Findlay. Tragically, Miss Findlay died in June 2005 of a suspected Valium overdose after battling depression and telling friends she had hit an 'all-time low'.
In 2006, Jesse, a guitarist, and his former band Wills And The Willing then went on tour of the nation's schools urging kids to keep off booze and drugs.
Last night, Stones insiders were shocked that Jesse, who is regarded as one of the most down-to-earth of the Stones' siblings, had been suffering.
One said, 'He's one of the most level-headed of all the Stones' children. It's a real shock. Jesse's a really lovely, lovely bloke. Everyone who meet him knows he's a sweetheart.
'He's largely kept out of the limelight and tried to build a normal life for himself. It's a real shock.'
Ronnie also spoke further of his own battle with drugs and booze.
He said, 'I'm over six months clean and good with it. Boredom is a killer as is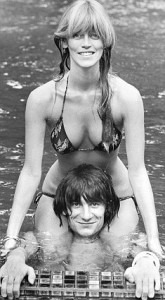 the idea that I can always have just one drink. Once I got rid of that I could take my life back and more focused at everything, my music and my painting.'
Jesse, who once dated cocaine shame model Kate Moss as well as Jasmine Guinness, married another model Catherine 'Tilly' Boone in 2003.
He and Miss Boone, whose late father was a Gloucestershire accountant, have an eight-year-old son, Arthur, and a daughter, Lola, aged four.
The model and guitarist, who has performed with his father, has performed with his own bands Hogg and Black Swan Effect in the past. In August, he joined his father on stage when his former band The Faces re-formed at the Vintage festival Goodwood, England.
Earlier this year Jesse and his wife and two children signed a reported seven figure deal to appear in Calvin Klein's new Eternity campaign.
Speaking of the contract earlier this year, Jesse said, 'I took some time out from modelling to tour and concentrate on my band, The Black Swan Effect but when Eternity came up it was brilliant to get back into it with something that involved my entire family.'
Ronnie has three children. Tyrone and Leah Wood are both the result of Ronnie's second marriage to Jo, whom he left in 2008.
Tyrone, 27, runs Ronnie's art gallery in London. He was left broken hearted after supermodel Rosie Huntington-Whiteley left him for the movie star Jason Statham.
Leah, meanwhile, is married to Australian TV producer Jack MacDonald. They went to live in Sydney at the end of January. She has said since: 'I'm not missing anyone, and I know that sounds horrible but I'm just enjoying being away.'
by Wallace McTavish