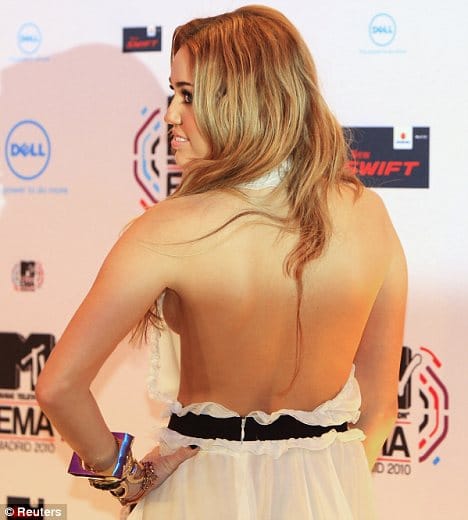 Miley Cyrus wears daring outfits on occasion, and this one is pretty daring considering her tender years.
The Disney star gave a glimpse of a bit more than she intended at the MTV EMAs in Madrid when she exposed most of her breast, as well as displaying a rather delicately placed tattoo.
Even though she's too young to go under the needle, Miley has ignored the law and got inked on at least six occasions.
The Hannah Montana actress previously caused controversy when she posed topless for star snapper Annie Leibowitz aged just 15 for the cover of Vanity Fair.
Last night, she swapped her backless white tiered dress on the MTV EMA red carpet for an even more risque outfit to perform live in.
In an ensemble that left little to the imagination, she sported a jewel-encrusted leotard, fishnet tights and Doc Martens-style lace-up boots.
The star is clearly impatient for the day she actually comes of age on 23 November. And one can only imagine what her wardrobe will look like then.
The Climb teen idol also flouted rules on Friday night when she was spotted
swigging beer in a bar in the Spanish capital after rehearsals for last night's show.
She was criticised in the US, where the legal drinking age is 21, thought no-one seemed bothered in Spain, where the legal age limit of 18 years old is rarely enforced.
And on Saturday night, she was gyrating in a see-through dress to perform her single Who Owns My Heart on Germany's top-rated Saturday night show Wetten Dass.
Miley is currently doing her best to put on a brave face following the split of her parents Billy Ray and Tish after 17 years of marriage, after allegations Tish cheated with Poison singer Bret Michaels. Tish is denying the claims.
On top of her parents' separation, Miley also appears to be 'off' again with on/off actor boyfriend Liam Hemsworth.
Australian Liam, who met Miley in June 2009 on the set of their film The Last Song, has been enjoying the female attention at the Melbourne Cup races last week.
The pair dated throughout filming but ended their relationship in August. They appeared to have rekindled the romance in September but have been spending an increasing amount of time apart.
A source tells People magazine, 'Their on-and-off-again relationship is currently off. But you never know with Miley and Liam. They could be back on at some point.'
Adds another source says: 'There was no drama. The relationship just ran its course. They were good friends first and remain friends.'
As for Miley's forthcoming milestone, her birthday wish is for her parents to be reconciled – even temporarily.
She told MTV News, 'My family and I] need time to all be together. "I'm not going to go crazy…just have a fun party and then maybe take a vacation with my family…because that would be really cool.
'So that would be rad if we could all go to the beach or something…I have to be near the water and I love doing scuba and going out and being on a boat.'
And of course it would give Miley an excuse to strip down to next to nothing again…