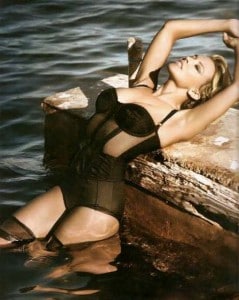 Pop princess Kylie Minogue is back to her gorgeous best as she looks forward to getting the five-year cancer all clear in March.
And her health, career and love life are all looking as good as she does in a recent photo shoot.
Kylie said, "A lot of peeple have said to me recently that I looking well and like my old self".
"I just need to get my fitness up. Then I'll almost be back in my own body, which would be great. I felt for such a long time that I was in a strangers body".
After finding a lump in 2005, Kylie battled breast cancer for a year. But chemotherapy and steroidstook their toll on her body. But at 42, she is in better shape than ever. Her happiness is partly due to supermodel fella, Andres Velencoso Segura, 32.
Kylie who previously dated French film star Olivier Martinez, admits she's always attracted to complex characters.
In a recent interview, Kylie says that she's found stability with Andres.
The balance includes plenty of work, too. Her new single Better Than Today is out and her world tour begins in February next year.
by Wallace McTavish