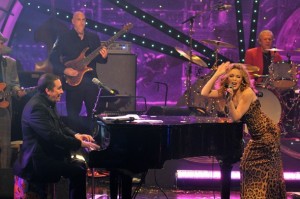 She's not a stranger to welcoming in the New Year with Jools Holland on his annual Hootenanny.
And Kylie Minogue once again joined the diminutive musician as they welcomed in 2011 on the BBC.
The 42 year old singer looked stunning in a skintight leopard print dress and matching shoes as she performed some of her biggest hits, including recent smash Better Than Today.
Kylie, who appeared on the show for the third consecutive year, was just one of the musical legends to appear on the programme, alongside The Who star Roger Daltrey and Gnarls Barkley frontman Cee Lo Green, who performed his hit single Forget You.
Alison Moyet, Rumer and Vampire Weekend also performed on the show, with comedians Jo Brand and Martin Freeman among the star guests in the audience.
But it was Kylie, who had curled her hair especially for the occasion, who received one of the biggest cheers of the evening when she took to the stage.
Before counting down to the next decade, Kylie joined Jools on the piano as she belted out Better Than Today, much to the delight of the star studded audience.
And the pint sized singer was clearly excited about welcoming in a new year, writing on her Twitter page earlier in the day: 'Put Your Hands Up… if you feel the love for 2011…whoooOooOoOoOOOPPPPPPPPPPPP!!!!!!!!!!!!! Happy New Year … love Kylie xxxx'
Kylie also revealed some of her resolutions for 2011, admitting she is hoping to make a return to movies following her cameo role as the Green Fairy in Moulin Rouge in 2001.
She said, 'I don't know why I haven't done it yet. Musicals are, it's no surprise, right up my alley and I would be in seventh heaven doing a musical.
'It's going to happen somehow but I need to be a bit more pro-active.'
The Hootenanny, which always boasts an all-star rosta of performers, is one of the most popular New Year's television shows.
Talking about fronting such a successful programme, Jools Holland said, 'I have been incredibly fortunate in working with and observing so many amazing people, which is always strange and thrilling.'
by Wallace McTavish