Tenacious D's Jack Black has described Courtney Love's grudge against The Muppets as "absurd".
Last week, the Hole singer and full time cock sucker and cunt, Courtney Love, accused Kermit and co of "raping" the legacy of her late husband, Nirvana's Kurt Cobain, by including a cover of his classic track 'Smells Like Teen Spirit' in this year's movie The Muppets.
Love said that nobody asked her permission to use the song, and that she owns the rights to Cobain's music and has the power to approve whether they can be used in commercial projects.
However, when asked if he agreed with Love's comments, Black replied: "I beg to differ. That's absurd, absurd, absurd".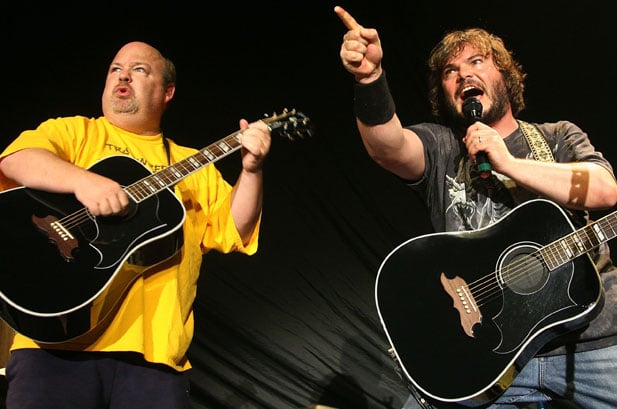 He went on to insist that he wouldn't want to blemish Cobain's memory, adding: "I personally hold no one in higher esteem in the world of rock. Kurt Cobain for me is at the top of the pyramid. He was the king… When he died it was sort of the end of rock."
Although Love claims she has the right to decide how Cobain's music is used, it has previously been claimed that she has sold off half the rights to the Nirvana frontman's back catalogue to Primary Wave Music, who are able to distribute his music and gave permission for the song to be used in The Muppets.
It is also thought that they sought permission from former Nirvana members Krist Novoselic and Dave Grohl to use the track, while some of the resulting royalties will be paid to Love and her daughter, Frances Bean Cobain.
Tenacious D, meanwhile, will release their new album 'Rize Of The Fenix' on May 15. The duo comprises of Black and comedian Kyle Glass.
by Wallace McTavish