Dave Grohl from the Poo Fighters has revealed that he wants to record the band's next album in outer space.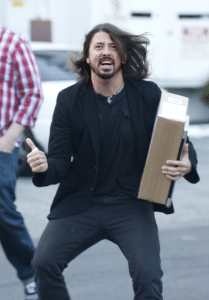 The frontman, who confirmed in December 2011 that they would be hitting the studio to work on a new album this year, told MTV that he had been struck by intergalactic inspiration when thinking about the next LP.
He said: "We have an idea. It's kind of a really big idea. We're going to record it in space. To tape. An analogue moonshot."
Dave…the last thing you said was that you were an average band…don't think you're much good, but you're trying. And, although it sounded a bit pretentious, I did agree that you were an average band, BUT your last album was fantastic…the best so far, in my opinion.
But where does this new bollocky statement of yours come from?
Do you really want to record in space? …you pretentious cunt. To be honest, space will be the best place for your music, because anyone who's got half a brain knows that you sing about trite and just make it sound glamorous…you talk too much when you have nothing to say.
Kurt Cobain would be turning in his grave…and that's the second time your bullshit has made me say that.
But really, why can't you just be a normal band, you know, take some drugs, get pissed and then, maybe, you might come out with some better stuff…other than being "The Partridge Family with long hair" ?
Oh Dave, Dave, Dave…what are we going to do with you?
Why don't you move to the moon and then the rest of us get on with listening to something with substance…something with body…rather than churning out recored like it was a fucking factory line.
Foo Fighters released their last album 'Wasting Light' in April last year. The LP was recorded with legendary producer Butch Vig and also featured Grohl's ex-Nirvana bandmate Krist Novoselic.
Grohl also discussed his forthcoming documentary on Sound City Studios and hinted that there could be an accompanying soundtrack album in the pipeline, too.
He has spent the last few months making the film, which pays tribute to the studio complex where countless classic albums including Nirvana's 'Nevermind', Slipknot's 'Iowa', Fleetwood Mac's 'Rumours' and Rage Against The Machine's self-titled effort were recorded.
For the film, Grohl has sourced contributions from the likes of Nine Inch Nails' maestro Trent Reznor, Tom Petty, Slipknot frontman Corey Taylor, and Queens Of The Stone Age's Josh Homme.
"We released a teaser trailer…there may be an album that accompanies it," he said. "I recorded a lot of songs with a lot of people in the past couple months. There used to be a recording studio called Sound City that was in the San Fernando Valley. Nirvana recorded there in 1991. It was this really beautiful dump in the middle of a warehouse district. A lot of great records were made there."
There are as yet no details on when the documentary and its accompanying soundtrack will be released.
by Wallace McTavish