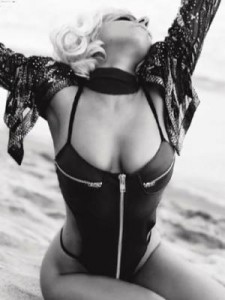 Lady Gag-gag missed out on a record 13 MTV Music Video Awards, but she has still scooped 8 prizes at the ceremony at Los Angeles.
Seven of her statuettes came for Bad Romance with another awarded "Best Collaboration" with Beyoncé on the song, "Telephone".
Gaga, you think it's trendy to be wacky. I'm afraid that going on television with a fucking telephone on your head is just a tad contrived to say the least.
The flamboyant Lady Gaga tied Norwegian group, A-HA, the big winners of 1986, as the 2nd most honoured act on a single night.
British rocker Peter Gabriel set the record of 9 competitive wins in 1987 for his innovative video Sledgehammer.
The only other multiple winner was Eminem, who won a pair of awards for his video "Not Afraid". He was up for 8 statuettes.
The rapper opened the show with a medley of tunes, but made a swift exit
before accepting his awards.
I don't blame him. Eminem has something to say in his songs…he's an artist, like him or not.
If Lady Gaga was half as talented as Eminem, she wouldn't have to go around with, I'm sorry but I'm going to mention it again, wearing a telephone on your head.
Keith Richards once said, "If you say you are, you're not".
Gag-gag, you are just contrived and a fake. Or maybe you're starting to believe your own hype…who knows…and quite frankly who cares.
Success also came for breakthrough group, Florence and the Machine, who won the prize of "Best Art Direction, for "Dog Days Are Over".
Kanye West, Linkin Park, Mary J. Blige, Drake, Usher, Florence and the Machine, Justin Bieber and Paramore all performed at the Nokia Theatre.
Ahead of the ceremony, Gag-gag, who calls her legions of fans, "her little monsters", said, "Ironically, I'm even more proud, it's unluck,y number 13".
"A long time ago, the world told me and my little monsters would never be heard. Together we change the rules".
Personally, I wish the world would tell you to not be on our televisions. The world is slutty enough without your input.
Some of us have a brain and can "turn Gaga off". But the rest seem to be under your spell…fuck knows how.
The pop-singer recently grabbed the headlines for wearing a beef bikini and posing as a man for a Japanese magazine.
What's next, Lady Gaga hat made of cow -shit. You make me gag. Uuuurghh!!
by Wallace McTavish