Her passionate affairs with English rock stars including Mick Jagger and Eric Clapton helped build her reputation as a man-eating party girl.

But now that she is France's First Lady and an expectant mother, Carla Bruni-Sarkozy might notice a few eyebrows being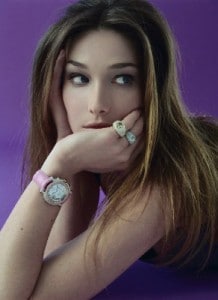 raised at the identity of her latest 'close friend'.

He is Pete Doherty, the drug-taking convicted criminal who fronts the Libertines and Babyshambles.

The pair are said to have met earlier this month and immediately bonded over a shared love of music and poetry.

'Pete has got to know Carla, and they have a real connection,' said Doherty's manager, Andrew Boyd.
Carla certainly has plenty of time on her hands at the moment…she has cancelled all official engagements because she is expecting her first child with President Nicolas Sarkozy in the autumn.

Instead she is spending time alone in her own home in Paris, or at various presidential residences around France.
The 43-year-old supermodel turned pop singer regularly entertains close friends from the music industry as she hopes to release another album next year.

Doherty, 32, is certainly a regular on the Eurostar high-speed train service between London and Paris, and is said to own a flat in the Marais district of the city.

He will be appearing at numerous concerts across France in August and September, including the We Love Green ecological music festival in Paris.

There is now even talk of Doherty recording with Carla, who has sold more than two million records in France.

Mr Boyd said the unlikely pair have met several times, speak regularly on the phone, and have exchanged lengthy e-mails.

A friend of Doherty's said, 'They've met up several times and really hit it off. Pete really enjoys Carla's company and is flattered by the fact she wants to spend time with him.'
As well as music and poetry, Carla and Doherty are linked through the world of fashion.

They have both attended haute couture events in Paris and during the city's fashion week last year. Doherty performed a 'guerilla gig' on Avenue Montaigne off the Champs Elysees to celebrate the opening of a new branch of upmarket chain Joseph.
But Doherty's criminal background will not go down well with the notoriously right-wing Mr Sarkozy, who once described youthful law breakers as 'scum' who should be 'blown away with a power hose.'

Doherty, whose past lovers include Kate Moss, fashion model Irina Lazareanu and singer Lisa Moorish, has been jailed three times and appeared in court 13 times.
Earlier this year French model, Alexandra Paressant, 30, told how she shared passionate nights with Doherty after meeting him at a Paris gig.

Before she became Mr Sarkozy's third wife in 2008, Carla said in an interview that 'I am a tamer of men' and that 'monogamy bores me'.

Other former lovers include American billionaire Donald Trump and Laurent Fabius, a former French ,socialist prime minister. She once lived with the French publisher Jean-Paul Enthoven but fell in love with his son, the philosopher Raphael Enthoven, and later had his child, Aurelien, now nine.

Doherty was last freed from prison as recently as July 6 after serving three months of a six-month sentence for cocaine possession.
by Wallace McTavish