She was right in the middle of giving an emotional acceptance speech about how she was proud to be flying the flag for Britain.
So when she was interrupted so Brit Awards (Brits) host James Corden could introduce Blur, Adele didn't take too kindly.
The singer, who had won the top award of the night, Album of the Year, flipped the middle finger to show just how annoyed she was.
Adele, who earlier performed a stunning rendition of Rolling In The Deep, said afterwards it was 'to all the suits' of the show.
The 23-year-old was on stage accepting her second award of the night – after taking home Best Female Artist – presented by George Michael.
She said: 'Thank you so much, thank you, thank you very, very much.
'Nothing beats coming home with six Grammys and then coming to the Brits and winning album of the year.
'I'm so proud to be flying the British flag for all of you.'
James then appeared on stage, met by boos from the crowd, and said: 'I'm so sorry, can I just cut off?'
Adele said: 'Are you about to cut me off? Can I just say then, goodbye and I'll see you next time round.'
She then proceeded to flip the bird, amid cheers from the audience.
James introduced Blur, who performed three songs. The group had earlier won the Outstanding Contribution Award and frontman
Damon Albarn got away with made a rambling speech…the longest of the night. Which is ok to do, because let's not forget, Blur have been making music since 1989 and are still very popular. This whole shambles of an awards night just shows us what useless cunts the organisers of the Brits are.
Everybody who won an award should have been allowed to have their say. It's just ridiculous that Adele, who has done lots in the last year didn't get to say her speech…absolutely ridiculous. But…mmmmm…….let me think…….20 years……..1 year……..make your own minds up.
An ITV spokesman said: 'The BRITs is a live event. Unfortunately the programme was over running and we had to move on. We would like to apologise to Adele for the interruption.'
The star said afterwards: 'I was about to thank the British public for their support. They cut me off, sorry if I offended anyone but the suits offended me.'
She added: 'I got cut off during my speech and flung the middle finger. But that finger was to the suits at the Brit Awards, not to my fans.'
A BRITs spokesman followed ITV's statement: 'We regret this happened and we send our deepest apologies to Adele that her big moment was cut short this evening due to the live show over-running.
'We don't want this to undermine her incredible achievement in winning our night's biggest award. It tops off what's been an incredible year for her.'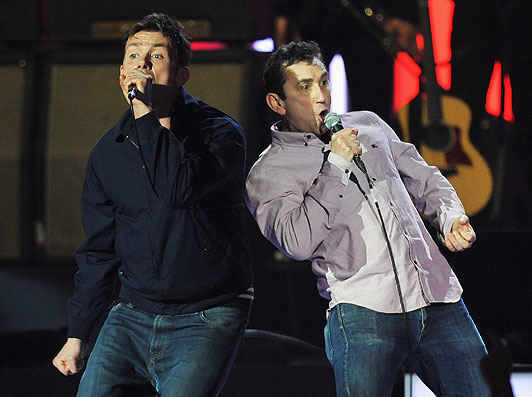 Fans took to Twitter to support Adele, including several celebrities.
TV chef Jamie Oliver wrote: 'ITV Brits executive producer why did you cut off Adele! bloody rude ! shame anyway respect Adele well deserved jox.'
Lily Allen said: 'I'd rather hear adeles acceptance speech.' But of course…nobody gives a fuck what the talentless, only got signed because her dad's famous Shitty Allen says.
James spoke to Laura Whitmore and said: 'I feel bad about having to cut Adele off I don't understand why I was made to.
'I was having the best night of my life and then I was told to cut her off. She's the biggest star in the world and I love her.
'I don't understand what happened I'm really upset.
It was only two weeks ago that M.I.A was pulling the middle finger during a performance at the Super Bowl.
She also swore into the camera during a rap solo, alongside Madonna and Nicki Minaj.
The 36-year-old's camp claimed she was struck with 'a case of adrenaline and nerves'.
'She wasn't thinking,' said the source, who requested anonymity but was with the artist at Lucas Oil Stadium. "It wasn't any kind of statement.
'She was caught in the moment and she's incredibly sorry.'
Earlier last night, Adele accepted her award for Best Female Artist, in the first gong of the night, beating Florence & The Machine, Jessie J, Kate Bush and Laura Marling to Best Female Artist.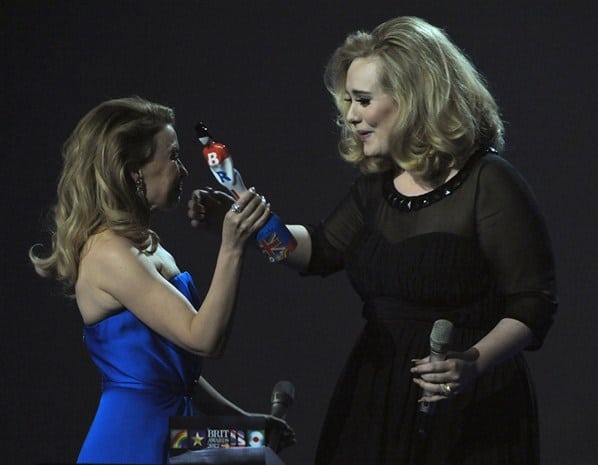 She was presented the gong by Kylie Minogue, who looked gorgeous in a blue dress which had a large split up the front, showing her enviable legs.
Adele hugged the star, before joking: 'I feel like I look like a drag queen next to you… I'm wearing heels.'
Of the award, she said: "Oh my god. Thank you so much… I'm shaking.'
Adele, the first artist to sell three million records in a year in the UK, thanked her record company 'for letting me be the kind of artist I wanted to be'.
She added: 'To all the fans no one's made me feel like I've had to be any different.
Host James Cordon joked afterwards: 'That's one hell of a successful tranny'.
Adele last Sunday won six Grammys in the U.S., including album of the year.
She made her live comeback following surgery on a throat hemorrhage last year and credited her boyfriend Simon Konecki – who accompanied her to the event – with helping her recover from the major procedure.
2012 BRIT AWARD WINNERS
British Female Solo Artist: Adele
International Male Solo Artist: Bruno Mars
Critics' Choice: Emeli Sande
Best British Single: One Direction, What makes You Beautiful
International Female Solo Artist: Rihanna
British Male Solo Artist: Ed Sheeran
British Group: Coldplay
Best International Group: Foo Fighters
British Breakthrough Act: Ed Sheeran
International Breakthrough Act: Lana Del Rey
Outstanding Contribution To Music: Blur
British Album of the Year: Adele