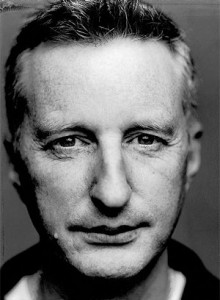 As a political songwriter and activist, Billy Bragg is no stranger to protests.
In the 1980s he played benefit concerts for striking miners and was an outspoken critic of Margaret Thatcher, while more recently he has taken a stand against bankers' bonuses by refusing to pay his taxes.
Yesterday it was revealed he has himself become the subject of a campaign,  after his neighbours received mail urging them to kick him out of the village where he lives in a $2.5 million home overlooking the sea.
The anonymous letters accuse him of being a hypocrite for living a celebrity lifestyle despite his socialist views.
They also maliciously claim he is anti-British and pro-immigration, deride his musical talent and call him the 'village idiot'.
Mr Bragg, 53, has condemned the letters as the work of a 'disgruntled member of the British National Party' and advised recipients to bin them.
The singer, nicknamed the 'Bard of Barking' because of his Essex roots, campaigned vigorously against the BNP at the last election in the Barking and Dagenham constituency where the extreme Right wing party's leader Nick Griffin stood unsuccessfully as a parliamentary candidate.
The BNP also lost every seat they had on the council there, where previously they had been the second largest group.
Among those who received one of the typed letters, which were each addressed to the owner/occupier with a second-class stamp with a Southampton postmark, was the village's postmaster Simon Holdcroft.
He said, 'It was quite bizarre and was a racist rant at Billy Bragg.
'We thought we were the only ones to have been sent it but over a few days it became clear that about 20 or 30 people had also got one.
'A lot of the people were quite horrified by it. It wasn't overly aggressive and didn't include death threats but it wasn't nice.'
Another recipient, Karen Broad, said, 'It was so vindictive and cowardly. Mr Bragg has done a lot in the village.'
In 2001 Mr Bragg set up a website to encourage tactical voting to oust Tory MPs in South and West Dorset which led to him backing the Liberal Democracts in 2010 because they had the 'best manifesto'.
He is also a regular at the Tolpuddle Martyrs Festival, an annual event celebrating the memory of those transported to Australia for founding a union in the 1830s.
Yesterday Mr Bragg, whose hits include A New England, said: 'It is clear from the content that this anonymous letter has been written by a disgruntled supporter of the British National Party.
'This letter is nothing more than the powerless ranting of a bitter individual who is angry that, even in a sleepy village like ours, people reject the politics of racism.'
Mr Bragg was one of the most prominent protest singers in the 1980s, and wore his working class roots on his sleeve.
Some detractors claim he forsook the right to act as a mouthpiece for the underprivileged the moment he moved out of London, but last year he hit back saying, 'It's not like I sold my principles to move to Dorset. I just sold my house in London.'
Villager Peter Dutton, 66, said: 'Billy Bragg was well known for his left wing views and Burton Bradstock is a right wing village where most people are retired and vote Tory.
'His views aren't generally well received but on the other hand he is very well respected in the village and has done a lot of good. Most people think the letters are just ridiculous.'
by Wallace McTavish