So, Guns n'Roses are coming to Perth on Saturday 11th December. The great Axl Rose will be rocking at Perth Motorplex at Kwinana Beach.
Except that he's not so great…really. I mean the only good thing about GNR was Slash. Admittedly, with all of the hype, he's over-rated. This isn't Slash's fault, it's just the way things are.
Slash's band Velvet Revolver are, in my mind, a far better outfit than GNR. Don't get me wrong, I'm not on a crusade to crush GNR. I actually like them. They've got some great songs that have already proved the test of time. I just want people to see what Axl Rose really is…a cockhead.
Did you hear about him at a gig in Dublin when the band came on at  gone 11:00pm.
Axl, people want to see the band play, that's not cool, and it's not clever, my friend.
When he graced the stage with his presence, he started getting bottle thrown at him. By the way they were plastic bottles, so he wasn't going to get cut up or anything.
He told the crowd to,'fuck-off' and that if one more bottle was thrown, they'd leave the stage. He's lucky the Irish didn't string him up…maybe they should've.
I saw The Damned (released the 1st ever punk album – a great punk band from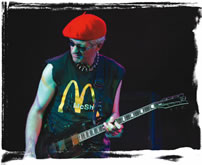 Croydon, England) in North London years ago, and when the band came out for an encore, Captain Sensible the guitarist, had his red beret (his trademark), a pair of burgundy Dr Martin boots and a string vest…that was all he was wearing.
The fans threw bottles at him, and they weren't plastic ones. He was jumping up trying to head-butt them.
I'm not saying that anyone should jump up and head-butt beer bottles…even plastic ones. I mean Captain Sensible was an idiot. A friend of mine from The Transistors (coincidentally another Croydon punk band), when they were 15, would find a pub with a fish tank in it and throw slime onto the ceiling and watch it drop down into the fish tank. The landlord would throw them out and they'd go onto the next pub.
While all that was happening, another Transistors band member was at home with Sensibles Dad, sniffing glue…Sniffing Glue…with his Dad!
Again, I'm not saying that Axl Rose should throw slime in fish tanks, and I don't think that anyone should ever sniff glue or petrol and shit like that, but he seems to have the personality of a plankton.
As for KORN, now they are a great band with fucking wicked songs. If you've,  by chance, never heard of them, listen to the obvious choice, Freak on a Leash and then carry on looking. You'll find some amazing stuff. Y'All Want a Single, A.D.I.D.A.S., Right Now and the painfull, beautiful Alone I Break.
Korn seem to have so much more substance than GNR/Axl Rose…did you see? Did you see what I did there…GNR (Slash) Axl…haha, I made a funny without realising it.
I don't know exactly how much it's going to cost you to go down to Kwinana Beach, and to be honest, it doesn't really matter. If it's too expensive, there's nothing you can do about it and if you're a fan of GNR/Axl, then it doesn't really matter what I'm saying, coz you like him… and that really is the only point when you go to see any artist.
And for all of you who didn't see GNR the first time around or were too young, it'll hopefully be a wonderful experience for you. To hear all of those songs will be great for you. It's a shame that Slash won't be there to give GNR the edge, which I think, and most would agree, disappeared when Slash left.
Yeah, anyway, go and see Korn, if anything, coz they rock.
All that Axl Rose ever did was wear Lycra shorts that showed the shape of his bell-end.
Which is exactly what you really are…a bell-end.
by Wallace McTavish