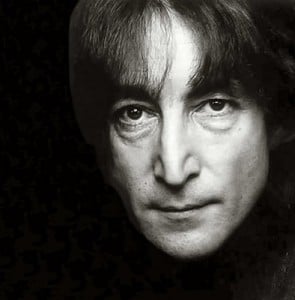 A complete set of John Lennon's fingerprints has been pulled from auction after the FBI seized the document on the eve of the late Beatle's 70th birthday celebrations.
The fingerprint card, part of Lennon's 1976 permanent U.S. citizenship application, had been expected to attract a minimum bid of $100,000 in an online auction at this month.
Peter Siegel, who owns the site, said the card was being sold on behalf of a private collector.
But the FBI – who had Lennon under surveillance in the early '70s because of his anti-war activism – are reportedly trying to determine 'how that item came to be up for auction'.
The Department of Homeland Security and the Manhattan U.S. Attorney's
office both made phonecalls to the auctioneer to ask how a government document came to be in public ownership, and then arrived to seize the item.
A spokesperson for the auction house said, 'The item has been under investigation by the FBI because it is considered government property'
Mr Siegal said: 'I've been doing this 20 years and have never had this much government interest in something.
'Here he is, one of our greatest musicians ever, and they just don't stop investigating this guy.'
The card, which is stored in a protective plastic bag, contains all ten of Lennon's fingerprints and bears the signature John Winston Ono Lennon in the upper left corner in blue ballpoint pen.
It was made at a Manhattan police station and stamped four times on its progress through the 1976 application process on June 2, June 6, July 8 and August 25.
It had been expected to be the top-earning item in the online auction because of the hunger for memorabilia belonging to the musical legend, who was shot dead outside the Dakota Building in New York on December 8, 1980.
His murderer, Mark David Chapman, is currently serving a life sentence at Attica State Prison and was refused parole for the sixth time last month.