A stray cat is recovering after miraculously surviving TWO attempts to euthanise her.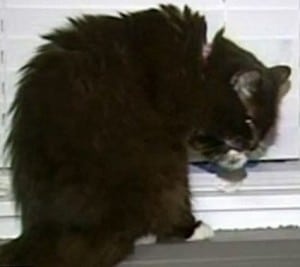 Staff at a Utah animal shelter made the decision to put down Andrea the cat after 30 days because no one had adopted her and there was no space to continue to keep her.
But the black and white cat stunned the vet by surviving her trip into the carbon monoxide gas chamber.
The astonished employee ran the gas once more before placing Andrea in a bag and leaving her body in a cooler.
Less than an hour later the same staff member was placing the body of a dog in the freezer when he heard a 'meow'. Tearing open the bag he found Andrea looking terrified but very much alive.
Despite the strange incident, the shelter stands by its euthanasia methods, which are recommended by the American Veterinarian Association.
A spokesman said: 'We've never had an instance like this since we started using this method so it does work. It's actually very human and it's very quick. This is just an anomaly.'
Andrea has since been handed over to the state's Community Animal Welfare Society (CAWS) where she will be put up for adoption after she has recovered from her ordeal.
Staff believe she has sustained some neurological damage, but is on the road to recovery.
'She's pretty tough, obviously,' CAWS volunteer Janita Coombs,
'She's definitely got some will to live.'
According to its website, CAWS is considering filing a complaint against the shelter over the treatment of Andrea.
A spokesman said: 'While this story about an animal's tremendous will to live is extraordinary, the practice of euthanising animals in a gas chamber is all too ordinary.
'It is very disturbing to realise how many other animals have survived the gas chamber, only to be gassed again or, worse, placed in a plastic bag alive and left to suffocate in a cold cooler.'