Artist Richard Hamilton, who was regarded by many as the father of pop art, has died today aged 89.        
Hamilton created a string of renowned works throughout the sixties that inspired artists such as Andy Warhol and Joseph Beuys.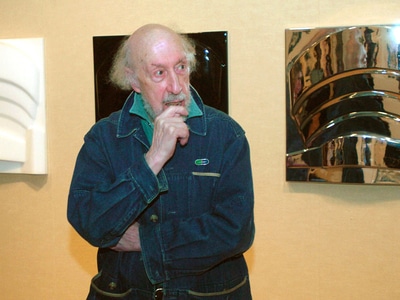 He had continued working on his latest pieces up until a few days before his death. It is not yet known how he died. Friends and former colleagues have today paid tribute to Hamilton, calling his influence on art 'immeasurable'.
'This is a very sad day for all of us and our thoughts are with Richard's family, particularly his wife Rita and his son Rod,' art dealer and gallery owner Larry Gagosian said.
A statement from the gallery called Hamilton the 'father of pop art' and a 'pioneering artist of unparalleled skill, invention and lasting authority.           
'His influence on subsequent generations of artists continues to be immeasurable.'            
Nicholas Serota, director of London's Tate gallery, added: 'Greatly admired by his peers, including Andy Warhol and Joseph Beuys, Hamilton produced a series of exquisite paintings, drawings, prints and multiples dealing with themes of glamour, consumption, commodity and popular culture.'         
Despite his age, Hamilton had been working until just a few days ago on a major museum retrospective of his work scheduled to travel
to Los Angeles, Philadelphia, London and Madrid in 2013/14.              
Gagosian did not say how Hamilton died or where, although he was in Britain.       
Hamilton's best known work was his 1956 collage 'Just what is it that makes today's homes so different, so appealing?', considered by some historians to mark the birth of the pop art movement.  
Hamilton is also credited with coining the phrase 'pop art' itself, in a note to some architects who were considering putting on an exhibition with him along similar lines to the 1956 'This Is Tomorrow' show.            
In words dating from 1957 that are seen as prescient of the likes of Warhol and, more recently, Damien Hirst, he wrote:
'Pop art is popular designed for a mass audience, transient short term solution, expendable easily forgotten, low cost, mass produced, young aimed at youth, witty, sexy, gimmicky, glamorous, big business.'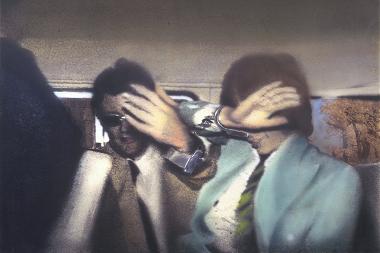 Hamilton is often associated with the swinging 60s, including for his painting of Mick Jagger and art dealer Robert Fraser in handcuffs following a drugs raid.        
He also designed the sleeve of the Beatles' 'White Album', consisting of a plain white sleeve with the band's name embossed on it.           
Hamilton is remembered for his modesty and sense of humour as well as his artistic talent.  
Asked about people's perception of 'Just what is it that makes today's homes so different, so appealing?', he said in a recent newspaper interview: 'I'm rather bored with it but it's a nice little earner!'      
by David Livingstone