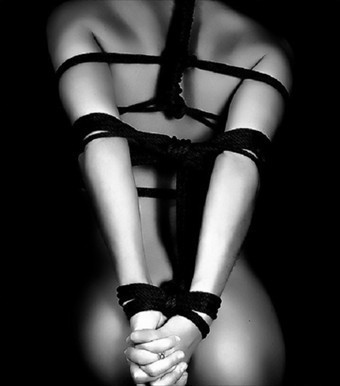 An unusual sex survey has found that Australians who enjoy bondage and discipline are not damaged or dangerous, and might even be happier than those who practise "normal" sex.
The research showed two per cent of adult Australians regularly partake in sadomasochism and dominance and submission-type sexual role play.
And contrary to commonly-held stereotypes, they are not doing so in reaction to sexual abuse or because they are "sexually deficient" in some way, according the study of 20,000 Australians by public health researchers at the University of NSW.
"Our findings support the idea that bondage and discipline and sadomasochism (BDSM) is simply a sexual interest or subculture attractive to a minority," Associate Professor Juliet Richters and her colleagues wrote in the Journal of Sexual Medicine.
The findings showed that it was more common among gay, lesbian and bisexual people, and that participants were more likely to have been more sexually adventurous in other ways.
"However, they were no more likely to have been coerced into sexual activity and were not significantly more likely to be unhappy or anxious," said Prof Richters, author of the book Doing It Down Under.
In fact, men who take part may be happier, with results showing they score significantly lower on a scale of psychological distress than other men.
The researchers did not study why this was, but suspect it might simply be that they're more in harmony with themselves because they're into something unusual and are comfortable with that.
Prof Richters says the findings go against professional views of BDSM.
"People with these sexual interests have long been seen by medicine and the law as, at best, damaged and in need of therapy and, at worst, dangerous and in need of legal regulation," she said.
There was also an assumption, mostly among the general public, that people involved in BDSM were sexually deficient in some way, "and need particularly strong stimuli such as being beaten or tied up to become aroused".
She said she hoped the results would help change these stereotypes.
by Debbie Dot