On this day in 1993, Frasier, a spin-off of the long-running mega-hit sitcom Cheers, makes its debut on NBC…and it will go on to air for 11 seasons and win multiple Emmy Awards.
Frasier starred Kelsey Grammer as the erudite, snobbish Dr. Frasier Crane, a radio psychiatrist who relocates from Boston to his hometown of Seattle following the breakup of his marriage. The main characters in Frasier's life are his father Martin (John Mahoney), a down-to-earth retired cop; his younger brother, Niles (David Hyde Pierce), a psychiatrist who shares Frasier's taste for the finer things in life; his father's kooky caretaker, Daphne Moon (Jane Leeves); his radio show producer, Roz Doyle (Peri Gilpin) and his father's dog, Eddie.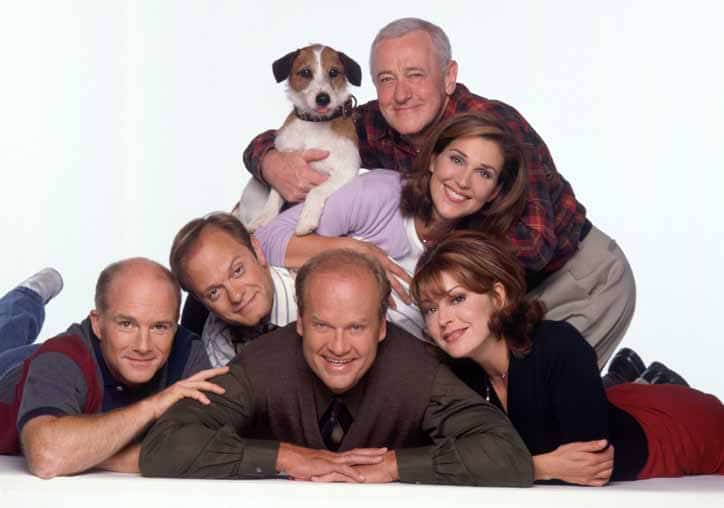 Kelsey Grammer, who was born on February 21, 1955, studied drama at New York City's Juilliard School and began his professional acting career in theater. In 1984, he made his first appearance on Cheers as the fiance of one of the main characters, Diane (Shelley Long). Although Frasier Crane was originally only supposed to appear on Cheers for a few episodes, the popular character became a permanent member of the show. Set in a Boston-based bar called Cheers, the show debuted on September 30, 1982. Dr. Frasier Crane was one of the regulars who, along with Norm Peterson (George Wendt) and Cliff Clavin (John Ratzenberger) drank at Cheers, which was run by Sam Malone (Ted Danson). When the final episode of Cheers aired on May 20, 1993, more than 80 million viewers tuned in, making it one of the most-watched last episodes in TV history.
Grammer went on to star in Frasier from September 1993 to May 13, 2004. After making an Emmy Award-nominated guest appearance as Crane on the 1990s sitcom Wings, Grammer became the only actor in TV history to earn Emmy nominations for playing the same character on three separate shows.
Grammer's other acting credits include a recurring role as the voice of Sideshow Bob on Fox's hit animated series The Simpsons. More recently, he and Patricia Heaton (Everybody Loves Raymond) co-starred as a pair of news anchors at a Pittsburgh TV station on the short-lived sitcom Back to You, which aired from 2007 to 2008 and was directed by Cheers co-creator James Burrows.