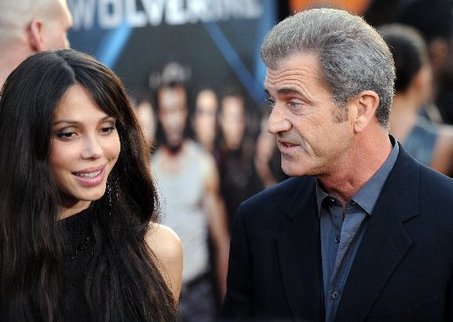 Will Mel Gibson get charged with assaulting his ex-girlfriend Oksana Grigorieva? It has been postponed until an investigation of an alleged extortion plot against the Braveheart actor and director is completed.
The LA County Sheriff's Department said it finished its investigation into domestic violence allegations against Gibson – which it launched in July – and turned over its findings to county prosecutors several weeks ago.
But no decision about prosecuting Gibson in the domestic violence case will be made until an extortion investigation is finished – which could be several weeks away.
In a separate development today, Los Angeles judge Scott Gordon granted Grigorieva a $15,000 a month increase in child support.
Gibson's child support payment was raised from $5000 to $20,000 a month
but Grigorieva, 40, wants the judge to increase the award to $60,000.
Since Gibson and Grigorieva split in April, the pair has engaged in a tempestuous custody battle over their 11-month-old daughter Lucia – which has included the public release of a series of explosive recorded phone calls between the two.
The 54-year-old Australian actor has claimed his former Russian lover asked for money in exchange for keeping the recordings of their nasty exchanges private.
No suspects have been officially named in the extortion case, according to sources said to be close to the investigation.
In July, the county sheriff announced it was investigating domestic violence claims by Grigorieva. She alleged Gibson punched her twice in the head and broke two of her teeth as she held their infant daughter during a January 6 domestic dispute.