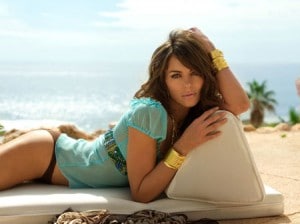 Shane Warne has again found himself in a spin, with the former test star's social networking skills, or lack thereof, dashing hopes of another innings with Liz Hurley.
The News Of The World newspaper in the UK reports that his sexually explicit text messages to a married Melbourne woman have hit the Hurley liaison for six.
Images of the 41-year-old cricketer-turned-commentator and all-round media opportunist were released last week showing him in an embrace with model and actress Hurley, 45.
Twitter news of a possible ongoing relationship between the pair emerged, spurred on by Hurley tweeting that she had recently separated from millionaire husband Arun Nayar.
But Warne's concurrent pursuit of Melbourne businesswoman Adele
Angeleri, to whom the News Of The World reports he sent more than 100 raunchy text messages, has ruined hopes of an on-going romance with Hurley.
Ms Angeleri's husband, Denis, reacted with anger to Warne's approaches to his wife of 20 years.
"The only thing Shane Warne is interested in is his dick," Mr Angeleri wrote on Twitter.
Hurley has also had her say, comparing the situation to The Jerry Springer Show.
"Er … please take any mentions of me in the last thrilling instalment of the Jerry Springer-esque saga with a LARGE pinch of salt," she posted.
Appropriately, Warne himself is now in the talk show business. His self-titled program premiered on the Nine Network in November.
by Robbo Green