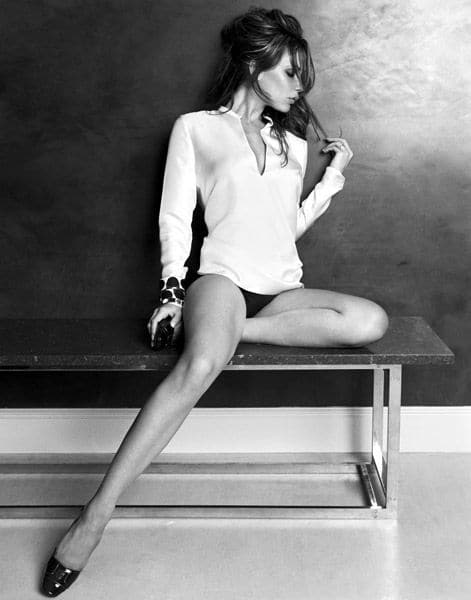 She's a mother of four children, the youngest of whom is just seven months old.
But Victoria Beckham looks in the best shape of her life, as she proved when she stripped off once more for a magazine photoshoot.
The 37-year-old star is seen showing off her trim and toned figure in a series of provocative outfits in the shots, taken by renowned photographer Josh Olins.
In one picture, Victoria wears a white corseted Rochas body, teamed with Manolo Blahnik heels, while in another she wears a black PVC style lingerie top and shorts from Balmain.
And despite the stunning pictures, in the accompanying interview with the publication, Victoria admits she hasn't always been so comfortable with the way she looks.
She said: 'When I started it was all about the corset dress. That's what people associated me with, and possibly if I'm honest a sign of my own insecurities as well.
'But the older I get and the more comfortable I am in my own skin, the more I realise that to look great and feel great I haven't always got to wear something tight.'
Victoria teams her strong look with a defined brow and smoky eye make-up on the cover of the magazine, with a huge diamond ring taking centre stage in the otherwise jewellery-free shot taken by photographer Josh Olins.
Victoria, also known as Posh Spice to her millions of fans around the world, has made a name for herself as an incredibly successful fashion designer since leaving the Spice Girls.
However, she said that when it comes to designs for her range, she works with what feels right rather than trying to fit into any already established trends.
She added: 'I've stood on many a red carpet and been photographed from every angle, so I know how important it is for a dress to be flattering.
'I don't follow fashion and I don't follow trends, I just follow my instincts and think, what do I want to wear?'
And it seems that following her instincts has been the best course of action for Victoria, whose most recent range Victoria, Victoria Beckham has sold out at Harvey Nichols after an incredibly successful collection launch this week.
And with long waiting lists for the majority of the dresses, it looks like Victoria's popularity shows no sign of waning.
Holli Rogers, Fashion Director of online fashion retailed net-a-porter, said of the former Spice Girl star's success: 'Victoria Beckham continues to wow the fashion world with her designs and the anticipation and excitement surrounding her latest line, Victoria, Victoria Beckham, is huge.
by Debbie Dot