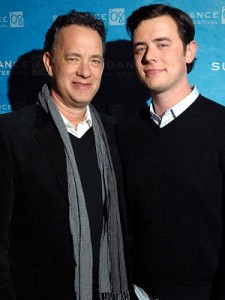 Hollywood star Tom Hanks has become a grandad for the first time.
His oldest son, Mad Men and Band of Brothers actor, Colin, 33, and wife Samantha Bryant had daughter Olivia Jane last month.
Colin's mum Samantha Lewes and Forrest Gump star Tom, 54, divorced in 1987 after nine years of marriage.
They had two children. She died of bone cancer in 2002.
Tom also has two children with wife Rita Wilson, his wife of 22 years.
by Helena Bryanlith