When Minnie Driver announced that she was pregnant on an American chat show four years ago, she kept the identity of the father a secret.
Instead the actress focused on raising her son, Henry, as a  single mother surrounded by her friends in Los Angeles.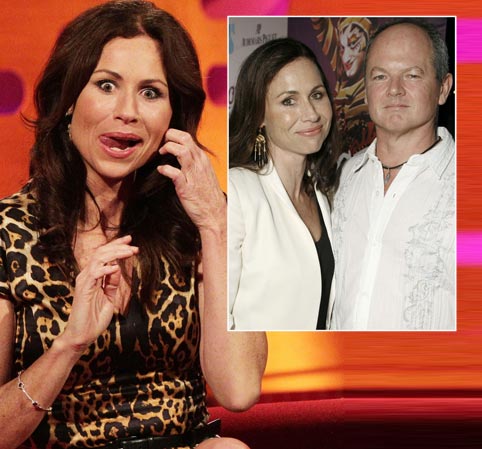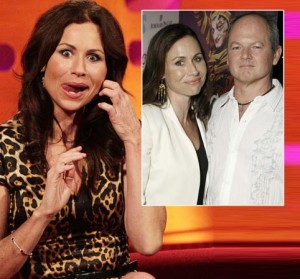 But now she is more comfortable talking about the boy's father, insisting: 'I don't need to protect him any more. He can fend for himself. He's a grown-up.'
Miss Driver had previously said of him: 'Our relationship was very complicated and private, and I honestly didn't want to have to talk about it.
'I didn't want people coming up to him … and raising eyebrows.'
But speaking this week to promote her film Hunky Dory, a low-budget British movie, she left several clues to his identity, claiming he was a writer on The Riches, the American TV series in which she co-starred with comedian Eddie Izzard.
When asked whether he was a good father to Henry, she said: 'Sort of. He's figuring it out . . . I mean, he hasn't been that involved; his choice. But he is now.'
Three-year-old Henry's father is Timothy J Lea, 52, co-producer of The Riches, as well as hit shows CSI New York and Law and Order.
Miss Driver, 42, dated him for a short time before they split up. On Henry's publicly-available birth certificate, the mother's name is registered as Amelia Minnie Driver, her full name, and the father as Timothy Jonathan Lea, born in Dunbartonshire, Scotland.
Mr Lea was brought up in Australia and moved to America where he graduated from high school in Stamford, Connecticut.
Miss Driver said of her decision to keep his identity a secret: 'We weren't together and he wasn't directly in the business, so I chose to protect him and not have a rain of publicity. He's not famous. There's no big story.'
Minnie would like her son to be educated in the UK, because she 'had such a wicked time at school'
Despite splitting up with Henry's father before he was born, Miss Driver said she had coped well with being a single working mother: 'I had good friends around me, so it was sort of hilarious.
'I was making a film at the time and the paparazzi would shout: "Who's the sperm donor?" at me.'
The actress, who has dated Matt Damon and was engaged to Barbra Streisand's stepson Josh Brolin, also spoke of her own unconventional upbringing as one of two children born out of an affair.
Her mother Gaynor Churchward, a former couture model and designer, was mistress to her father Ron Driver, a self-made millionaire who had a wife and daughter who knew nothing of his other family.
Speaking about her childhood, she said: 'My father lived his life and he didn't look much beyond that evening. But I think that's a good thing. I think I'm like him in a way.'
Last night Miss Driver, best known for her role in Good Will Hunting, told Graham Norton about her desire to move back to Britain for the sake of her son.
'I would really like to move back,' she told the chat show host.
'I would really like him to have part of his education here, because I had such a wicked time at school.
'But, my lovely house in Hollywood would probably buy a one bedroom flat in London – I might have been priced out of living here.'
There was no response from either Miss Driver's or Mr Lea's representatives.
by Lorelle Heath