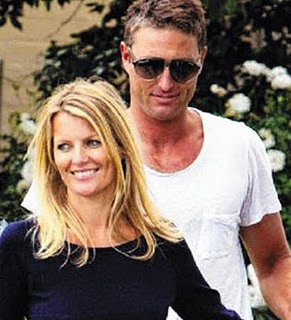 The ex-wife of cricket's legover legend Shane Warne has been bowled over by another sporting hero's son.
Long suffering Simone Callahan, 41, is dating hunky Toby Roberts,whose dad is former AFL star Neil Roberts.
The couple were spotted out together in Melbourne shopping for bed linen and lingerie.
They then went on to celebrity restaurant Mr Wolf, where onlookers said they, 'couldn't keep their hands off each other', before heading off tospend the night together.
When asked about her new man, mother-of-three Simone said, "It's early days but I'm happy."
Coy Toby added, "We just went out for a drink."
Shane Warne, 41, had cheated on Simone with Liz Hurley and then married business-woman Adele Angeleri, before getting back with Liz.
by John Jackson