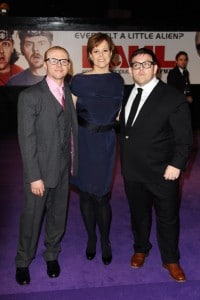 Simon Pegg, whose new movie Paul has been out for a couple of weeks now.
But it hit a snag when he gushed to co-star Sigourney Weaver that he's written a poem about her in his university days. She asked him to recite it…and he had to pretend he couldn't remember it.
It turns out he'd rhymed her first name with "horny"…so you can probably guess where the rest of it goes.
Anyway Simon…you might has well have told her…you might, well, you know…fulfill a university dream.
by Debbie Dot