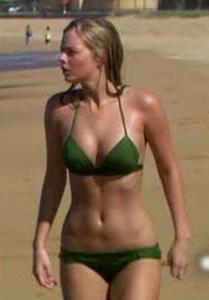 For a soap called Home And Away, the characters spend more of their time at 'home' in Australia than they ever do 'away'.
But in some upcoming episodes of the popular soap opera, the show's pin-up Samara Weaving, who plays Indigo Walker, has jetted to the U.S. island of Hawaii.
The 19-year-old actress and co-stars Luke Mitchell, Georgie Parker and Robert Mammone arrived in Honolulu at the weekend to spend a week on the island filming.
 And with the gorgeous sunny weather, Weaving has been taking plenty of opportunities to top up her tan.
The actress went all the way to Hawaii and then admitted she didn't know how to surf…so she's been taking lessons during her stay.

Speaking earlier this week, she enthused, 'I think there'll definitely be some shopping, but I really want to get in the surf, I haven't learnt how to surf and think 'what better place to learn than Hawaii?'
In between takes, Weaving larked around with handsome co-star Luke, who plays her love interest Romeo Smith.
The on-screen couple's relationship is set to be rocked by love rival Ruby Buckton (Rebecca Breeds), who falls in love
with Romeo to the chagrin of his girlfriend.
But the show's producer is keeping the storyline during their Hawaii trip under wraps, so fans will have to wait until it broadcasts later this year to find out.
Producer Cam Welsh said, 'We've got a great storyline and the locations we're shooting in are stunning, almost as good as Summer Bay.
'It's an exciting opportunity for the show to do something different and expand the stories we tell.'
Clearly enjoying filming in Hawaii, Weaving wrote on her Twitter page, 'I love taking surfing lessons. Conquering the waves!
'I just love to have these lessons so describing my feelings. Having a desire for the next lesson tomorrow! I love working on Hawaii so much. Such a pleasure.'

Adelaide-born Weaving joined the cast of Home And Away in 2009 as the troubled teenage daughter of Sid (Mammone) and Jody (Victoria Haralabidou).
by Milo Johnson