She was the brash, bullying queen of comedy who made a career out of being rude. So who would be brave or stupid enough to share a stage with Ruby Wax?
The U.S. star's new show, Ruby Wax: Losing It, is an account of the comedienne's battle to admit and overcome bipolar disorder. It was meant to be serious, but Ruby says the script is the funniest she's ever written.
And she's right. Losing It is not only an irreverent look at her mental illness, but also an insight into superficial celebrity culture, charting her career, marriage, motherhood and, finally, the terrifying question of what next?
Ruby's illness was caused by a chemical imbalance in her brain. She's had it since she was a child, but was diagnosed only after five months of depression following the birth of her youngest child Marina, now 17.
It's as personal as it gets, but on stage, Ruby has the support of her best friend, singer-songwriter Judith Owen. It's a brilliant collaboration, yet their friendship could so easily have turned into a catastrophe. Both have slept with the same man, who they still love, and Judith also suffers from the same crippling depression.
Seven months after Ruby's most recent breakdown in 2008, she called Owen to tell her she wanted to write a stage show about her illness. Owen says, 'Ruby wrote the script and I wrote the music and lyrics. We are like two people wrapped around each other on stage.'
This is just as well because they are both terrified. 'We're so nervous for fear we'll be hated or rejected for talking about the taboo subject of mental illness.'
The pair have performed, with enormous success, to patients in all 12 branches of The Priory, as well as in dozens of psychiatric wards. Now they are bringing their act to the public as part of a national tour. During a question and answer session with the audience, it is Owen who offers more direct responses about mental illness. 'I feared people seeing how depressed and, therefore, how ugly I was,' she says.
Her history of depression began when her mother, Millicent, committed suicide when she was 15. This was a trigger to an illness which would lead to her lying in a stupor during much of the Nineties. 'I'd be packing out Ronnie Scott's Jazz Club in London, but when I got home I'd start crying, then fall asleep through the strain of keeping up the pretence all day,' she recalls.
'My mother was fabulous, but she battled with clinical depression and anxiety disorder that was so physically crippling she slept a lot. Sleep feels safe when you're mentally ill.'
Her mother made sure  Judith, her father and sister didn't witness her death, 'but it made me determined to never go down that route,' she says. 'In the end, the disease ate her alive. She was 47. I'm doing the show for my mother.'
Owen's salvation was music…firstly through her Welsh opera singer father, Handel Owen. 'Every weekend, my sister and I would watch him at the Royal Opera House in London. His music got me through many dark hours.'
In 1993, Owen, 41, met American Harry Shearer, better known as Spinal Tap's Derek Smalls and the voice of Mr Burns on The Simpsons. She moved to California to live with him and married him two months later. 'I felt Harry was my only chance to get well. I met him when he watched me performing in a London bar.
'Afterwards, he invited me for a drink and told me: "I've broken up with my girlfriend. She was a singer-songwriter and struggled with depression. I said, "Really? That's something I've never had a problem with myself." I can't believe I told him that while thinking, "I'm an Olympian in this area."'
When Shearer, now 67, FedExed Owen a flight ticket to join him in New York, such was the debilitating effect of her depression she thought the receipt on the outside of the package was the airline ticket and was turned away from the check-in desk. 'When I finally got to his hotel, I didn't recognise him because he'd shaved off his hair. I collapsed on the bed and cried.'
Did Shearer register the warning signs at this stage? 'I would be proposing marriage and then smashing up crockery, so he must have realised something was wrong.
Then he realised the whole picture about my illness after we married, I knew I couldn't have chosen a more supportive, loving husband.'
Shearer had also become close to Wax when they met in the Eighties in England. 'Harry loves Ruby; they are like siblings.'
But this friendship didn't translate when Owen and Wax, 57, met. 'Harry and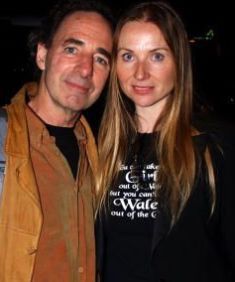 I went to Ruby's house where he introduced me to her as his friend. 'I was a big fan of Ruby's, but as I stood in front of her I felt insecure and full of self-loathing. Ruby was feeling the same, so we'd both got our armour on to hide our crippling illness.'
It wasn't until Wax and Owen were flying via private jet from a party a few years later that the pair bonded.
'Ruby and I sat next to each other. We had to drop off Eurythmics star Dave Stewart in Nice, where the runway is next to the sea. Ruby became hysterical. She grabbed my arm so tightly all the blood drained from my hand and started screaming: "My children, my children."
'I'm also terrified of flying, but now I was distracted by someone worse than me so, to calm her down, I told her about my depression. This is apparently the worst thing you can do to someone who is suffering from manic depression. But I couldn't think of anything else to say.'
After the plane landed safely, the pair became close friends. 'Ruby said: "You're great. I now see who you really are. Not everyone would be great, what with me and Harry." 'I said: "Why would I have a problem with you and Harry being friends?" And she said: "Some women are weird when you've slept with their husband."
'My jaw dropped. I had no idea they'd gone out with each other. It wasn't long-term, about six months, but there was sex involved. Then I laughed because I knew Harry had decided not to tell me because he was terrified I would have gone nuts. I don't blame him. When I felt guilty about lying to Harry about my depression, I remembered his lie about Ruby just being a friend.
'In the show, you see a comic Ruby, a serious Ruby and a vulnerable Ruby. We've had people in the audience admit in front of their families they are suffering from depression. So, although Ruby and I are scared about baring our souls, we know we're not alone.'
by Robbo Green