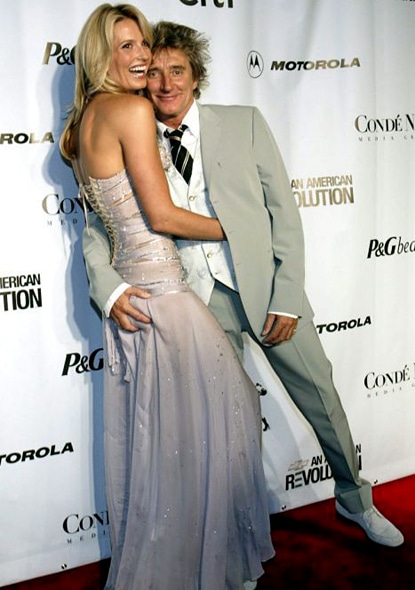 Rod Stewart has become a father for the eighth time after Penny Lancaster gave birth to their son Aiden.
The rock star, 66, and his wife said they were 'proud and thrilled' to announce the 'long awaited arrival' of their second child, a brother to their five-year-old son Alastair.
The couple told how they went through three rounds of IVF before Miss Lancaster, 39, finally became pregnant. The gruelling fertility treatment had sent them on an 'emotional rollercoaster', they said.
Miss Lancaster revealed that she was expecting last August, saying, 'I couldn't believe it. I burst into tears. I called Rod when I was still sobbing.'
'Rod said, "I'm in the middle of a restaurant in Russia, crying." I kept pinching myself.' A spokesman for the pair said Aiden was born on Wednesday weighing 7lb 12oz. 'Mother and baby are healthy and blissfully happy,' he said.
The couple have been together for more than ten years. They were married in 2007 in Italy just outside Portofino, making Miss Lancaster Stewart's third wife.
Aiden is the star's eighth child. Aside from Alastair, who was conceieved naturally, the newborn joins Kimberley, 30, and Sean, 29, from the singer's first marriage to Alana Stewart.
Stewart went on to have another daughter, Ruby, 23, with girlfriend Kelly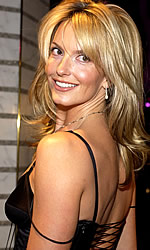 Emberg. He then had Renee, 18, and son Liam, 15, with former wife, model Rachel Hunter.
He also has daughter Sarah Streeter, 46, who he fathered early in his career with art student Susannah Boffey and who was raised by adoptive parents.
Speaking about their fertility struggle, the couple told how they saw experts in both America and the UK.
Miss Lancaster insisted the gruelling procedure was worth it just to see Alastair's joy when she broke the news to him. 'Our son's happiness made all the IVF treatments worthwhile,' she said. Despite this, Stewart has said Aiden will be his last child. He said: 'I can't have any more kids, otherwise I'll be touring until I'm 90.'
by Debbie Dot